My Mini Resto by minimk1
By diyauto
You must be logged in to rate content!
My Mini Resto
Compliments of minimk1 @ theminiforum.co.uk
10-19-2010
Hi this is my mini 1000 called barney ive had him since the end of august and so far i have stripped him down to the engine and wheels to reveal were the rust is and how bad it is the majority of the rust is on and around the boot and rear valance,heres some pics of him.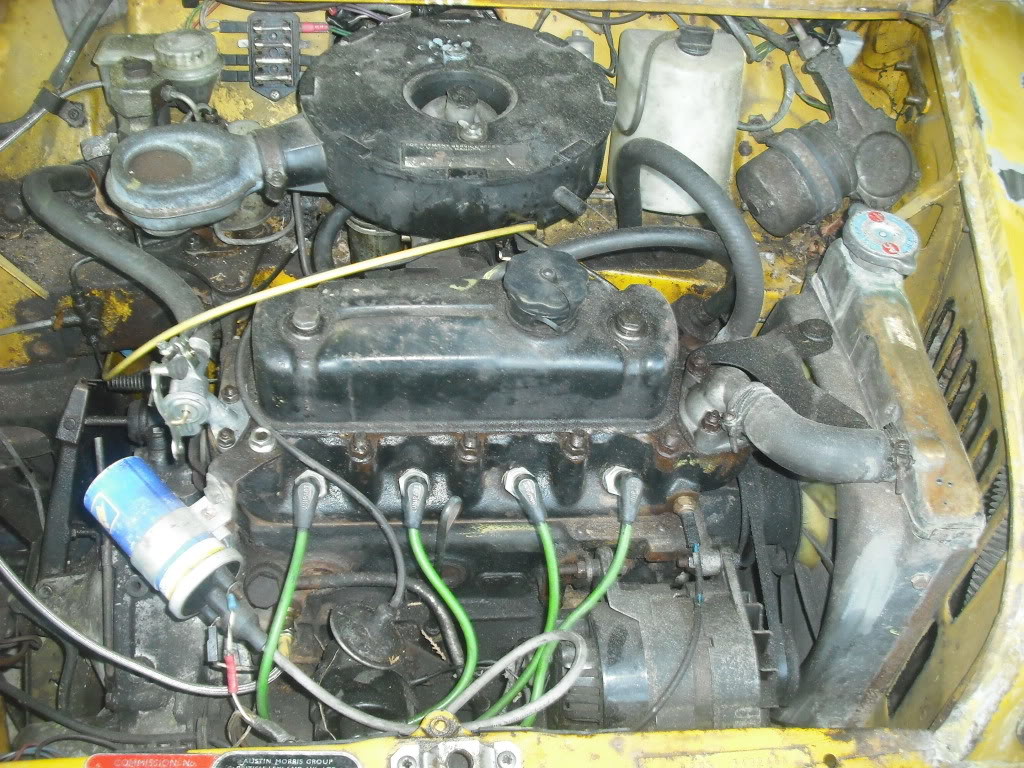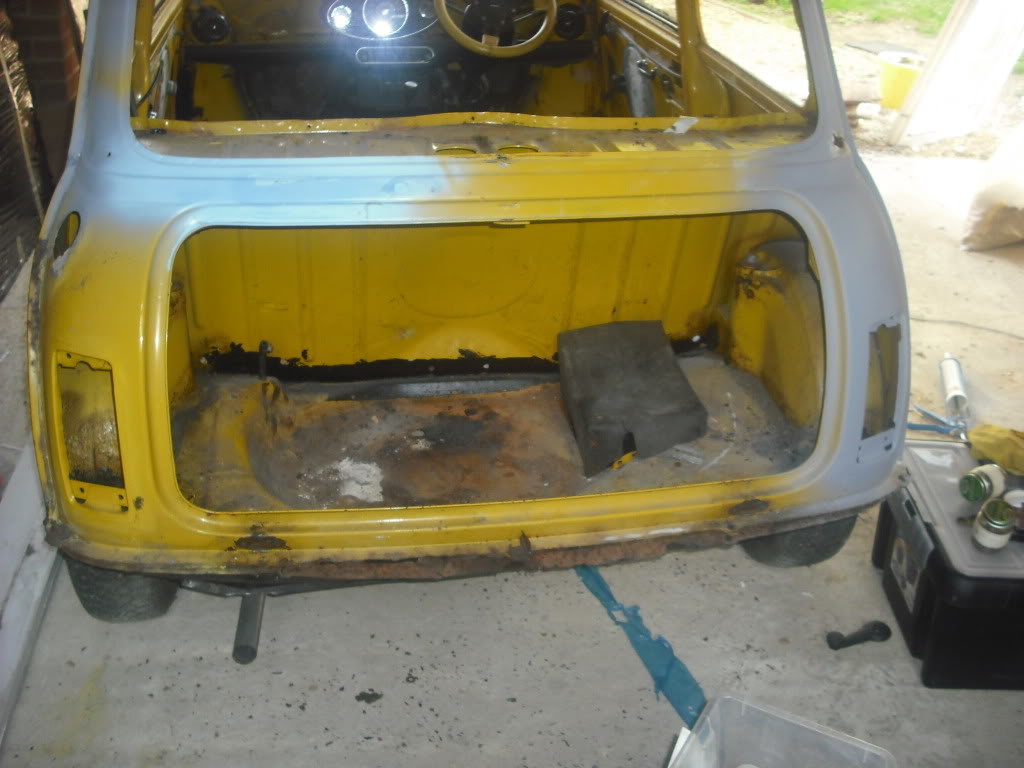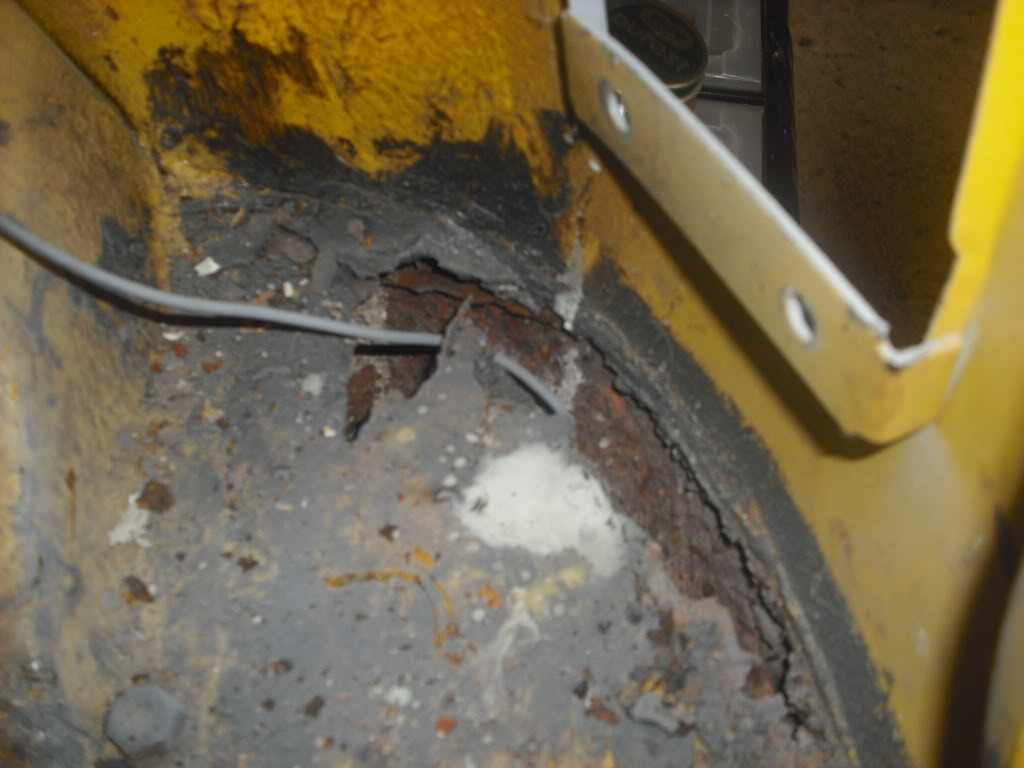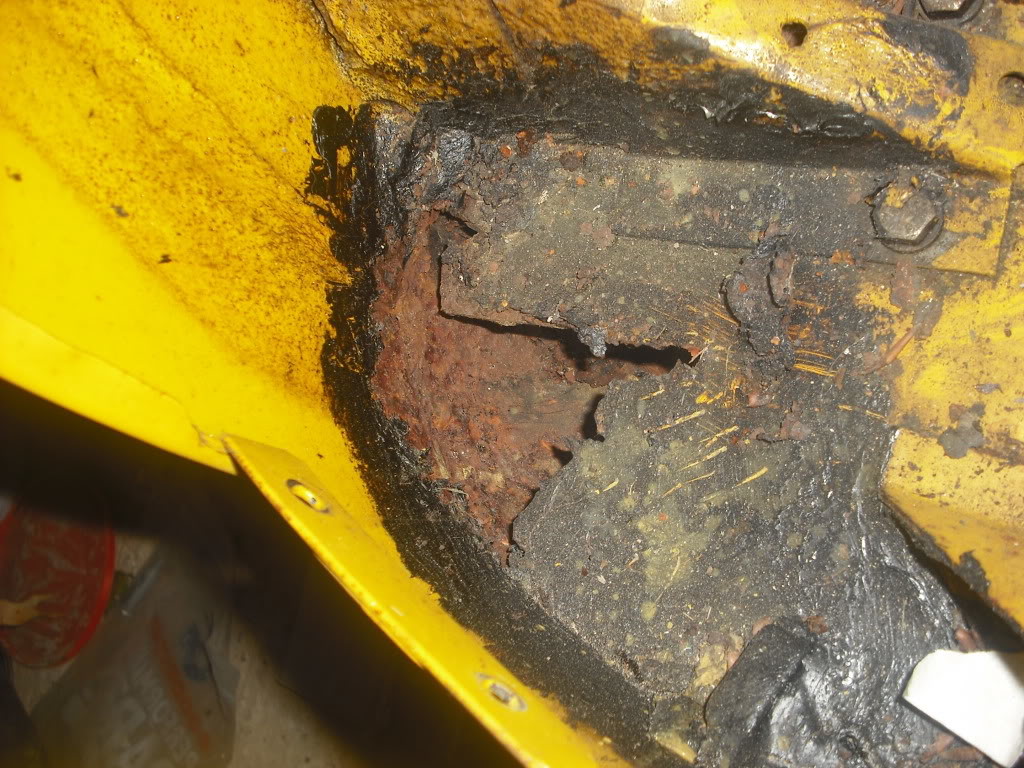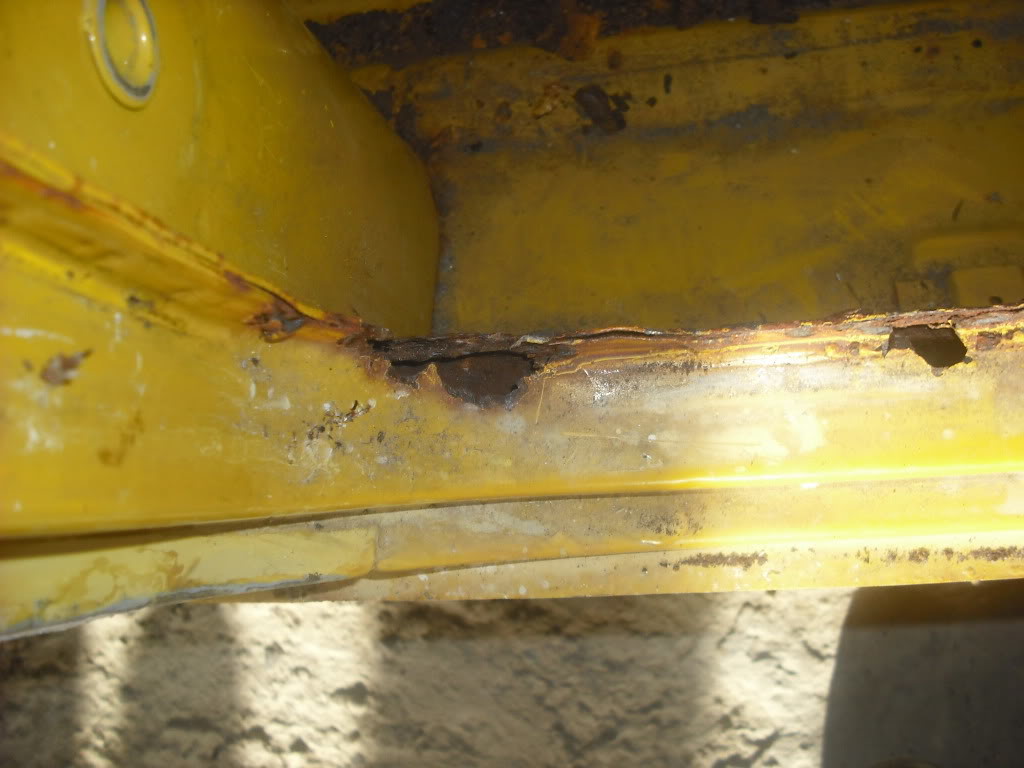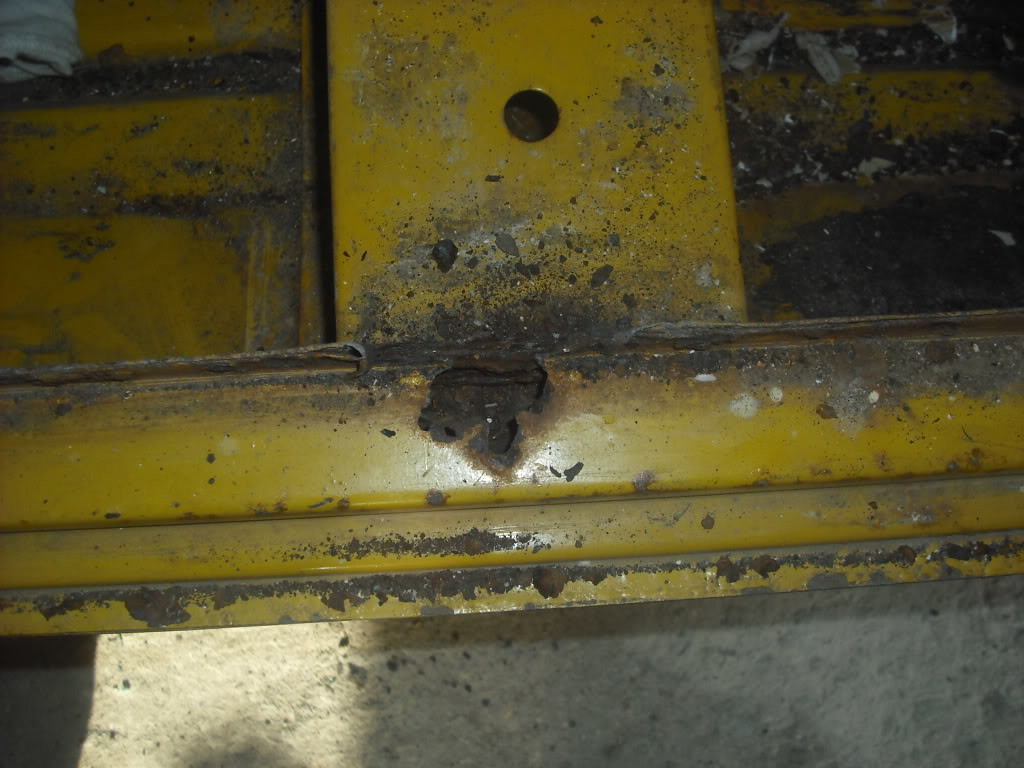 10-21-2010
more rust in boot, roof and back panal near rear window
:(
needs more welding
10-22-2010
TAKEN THE ROTTERN REAR VALANCE OFF, NEED NEW AND YET MORE WELDING
10-23-2010
MY DAD REMOVED THE DRIVERS SIDE WING TODAY AND THIS IS IT
2-8-2011
starting to get back on the car now but will update the pics in summer as the garage im working in is not fully complete yet
3-21-2011
done some work today because it was finally sunny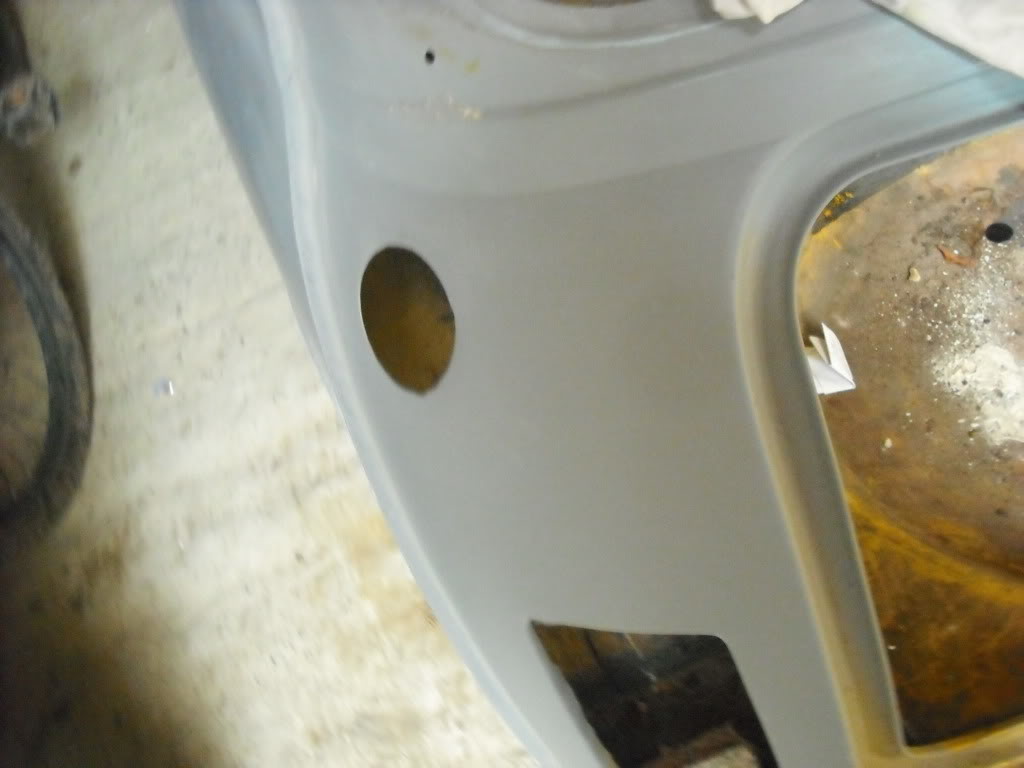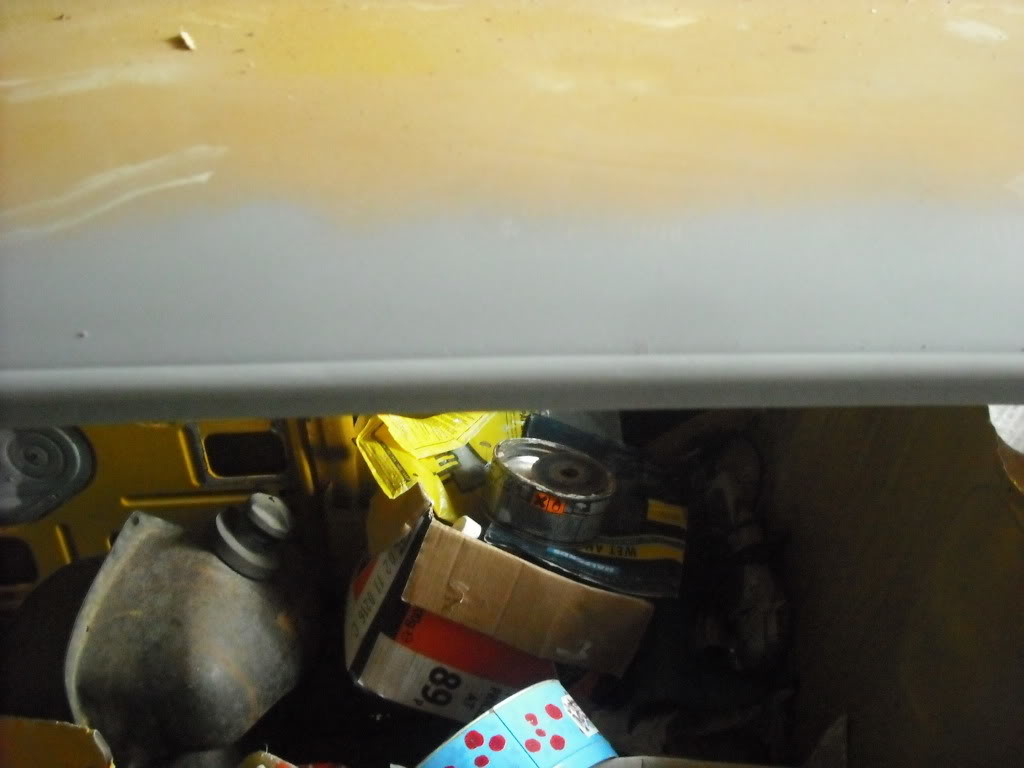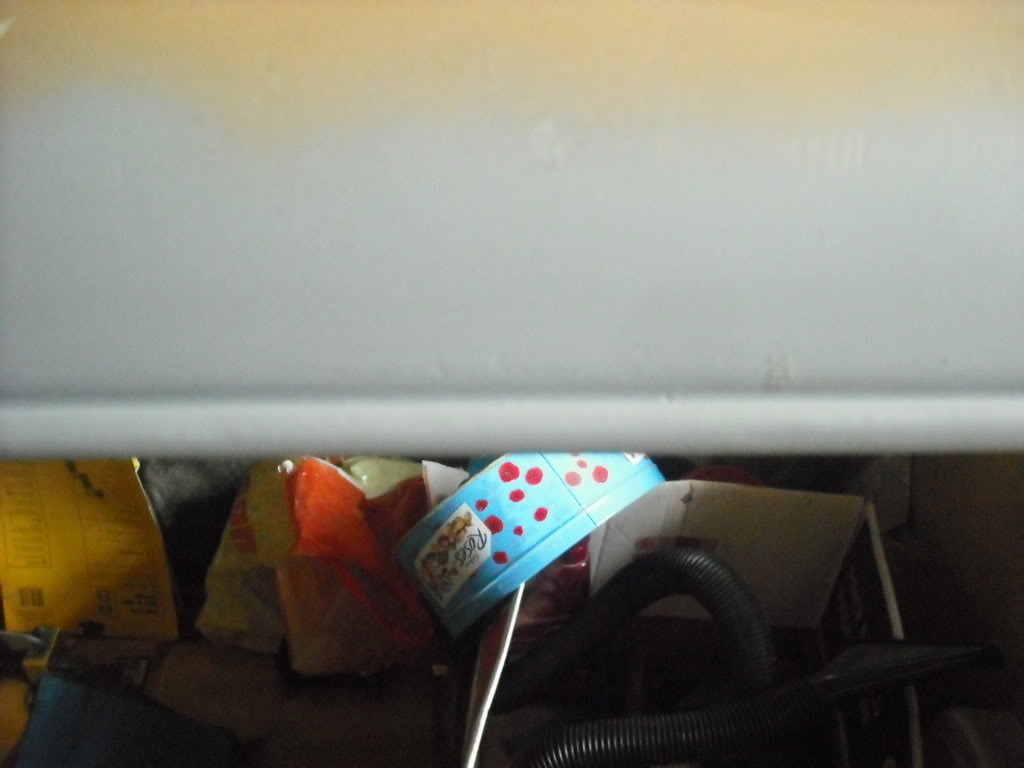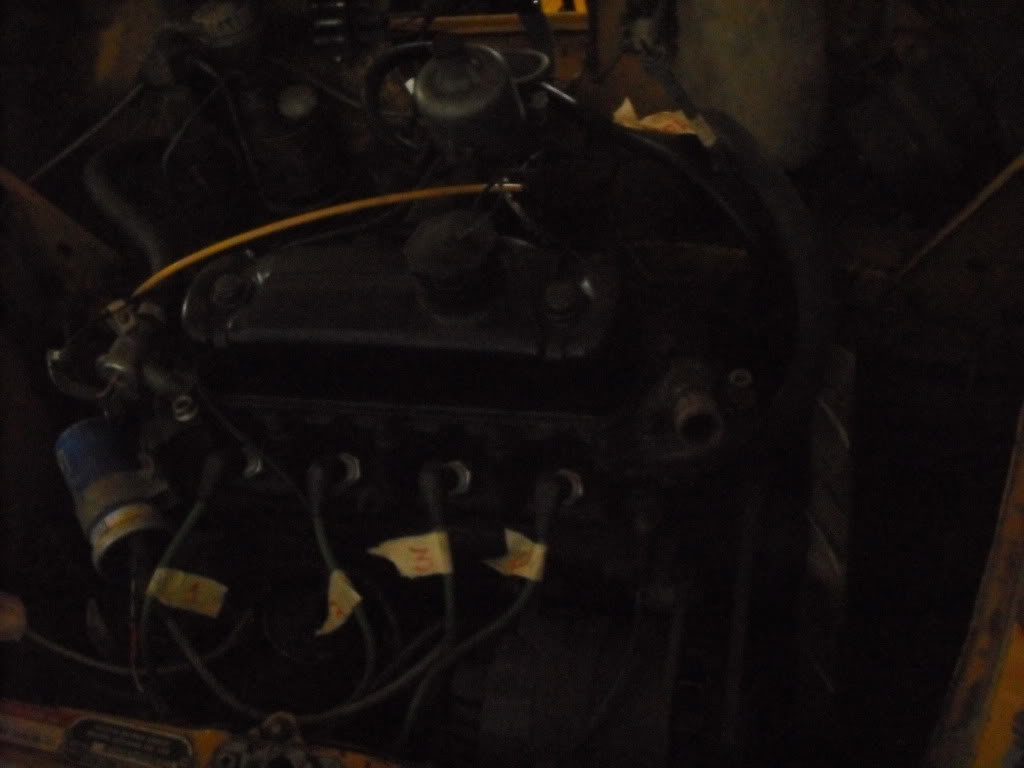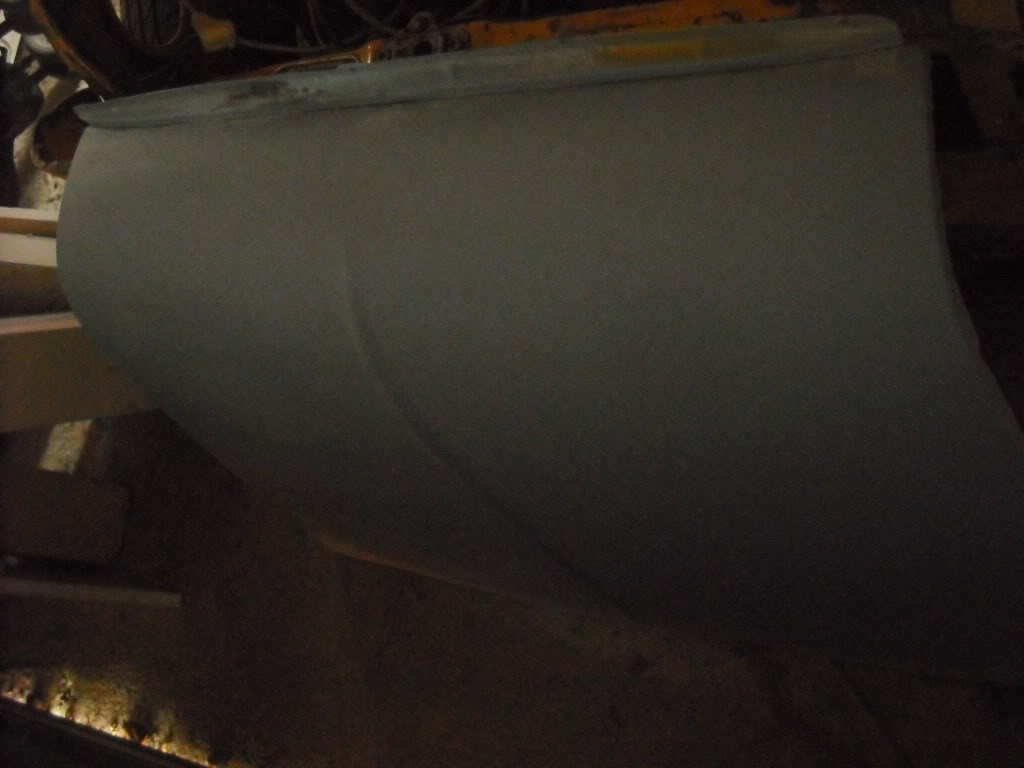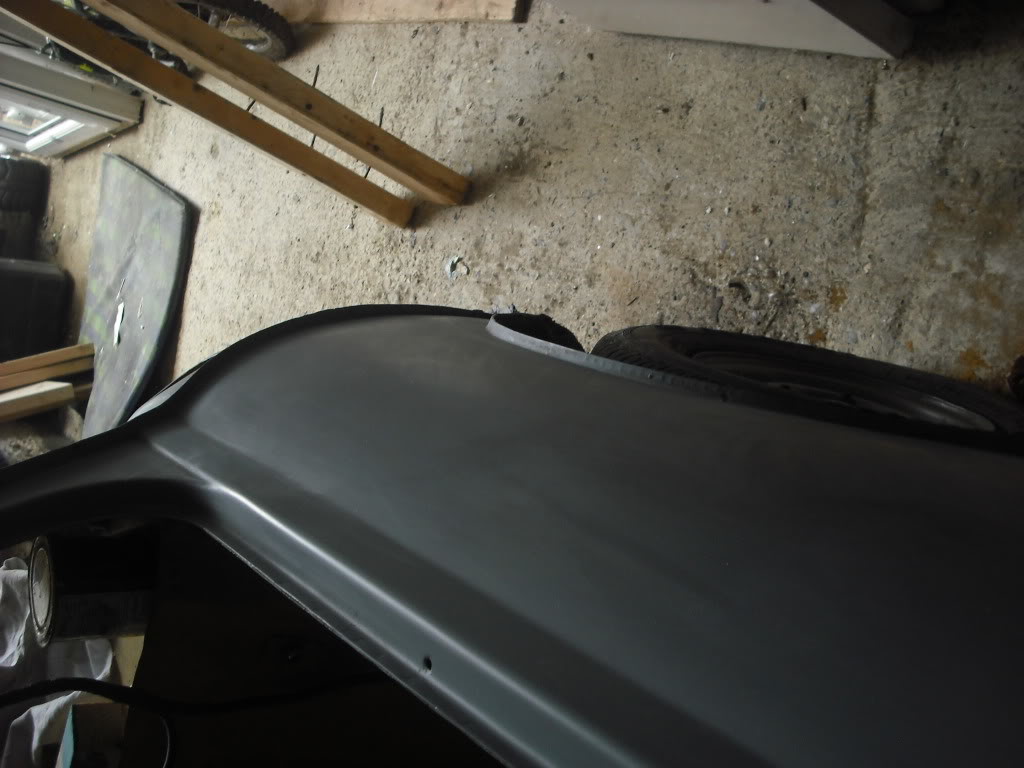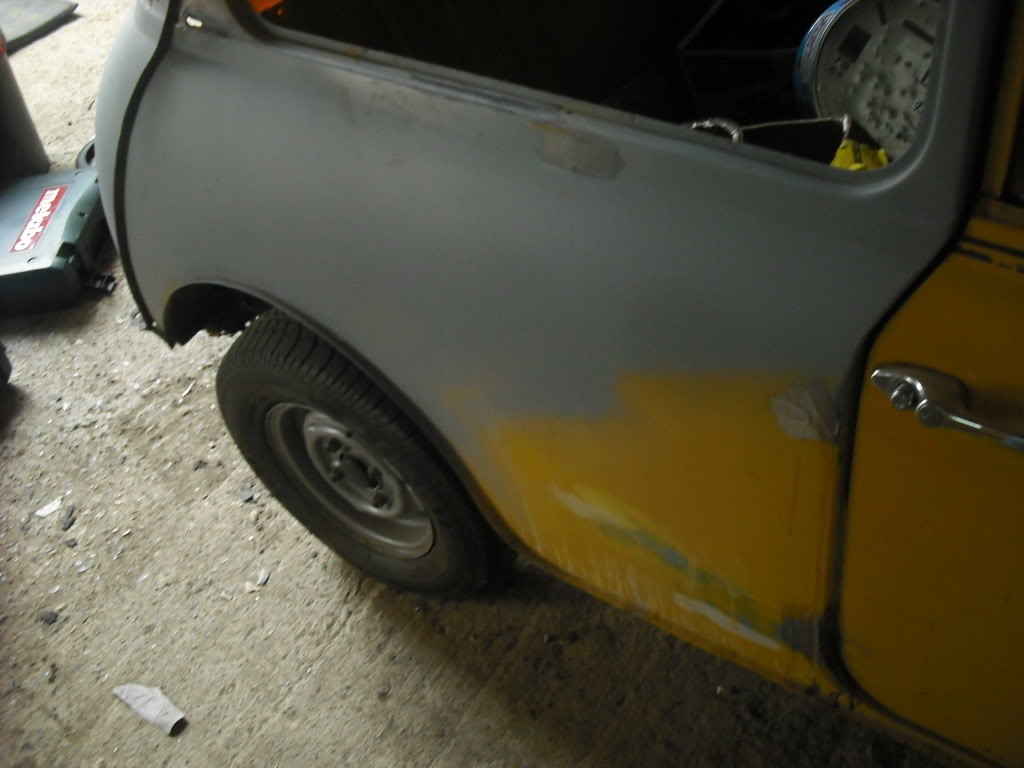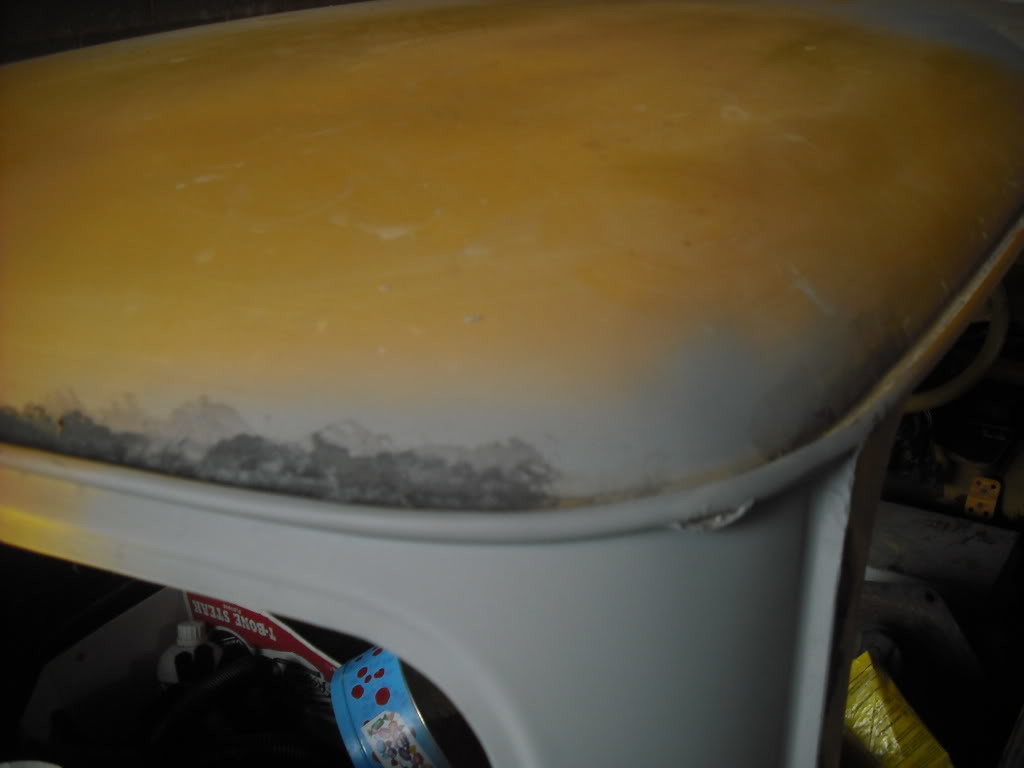 got bored this weekend so whilst waiting for the primer on the mini to dry i decided to paint a few black things blue on my bmx !!!!
3-22-2011
found some rust on my subframe today:(
5-1-2011
well after the wedding the weather was so nice i got cracking on again on my mini passanger side scuttle and wing whilst my dad tryed to rescue my front end but at least he is determind also my driver side sill is covered in holes as i discoved whilst removing all the underseal and this is what it looked like
and after sanding


also wanted to get him running agains so did and after a battery charge he started first time no probs whooo and i did spray it but didnt take pics so will do tommorow
5-2-2011
went to halfords yesterday and got some bits to fix my old mini up even though it was only sanding stuff and some primer but hey ho did my passenger wing but came to be a right swine because of two little dents on the curve of the wing and took me three or more times to almost get rid of it but thats for tommorow now and my dad is still chipping away at the front end but ill have to admit he is doing a good job of it any way here are the pictures
also does anyone know what colour my car is and i know its yellow but i dont know the actual colour so any suggestions???????
plus how do i fix this
7-7-2011
got the front wing sprayed in primer the other day and a section of the scuttle
also due to my bootlid being naf eg this is it

i had to buy a new one off of eBay in good condition from a great guy called Toni who restores cars for a living and anyway i got strait to it and started sanding

almost compete soon to be primered ready for top coat when needed
i also completed the left hand rear quarter panel how cool one whole panel primered and finished ready for paint along with the left a panel
7-12-2011
after some effort the boot eventually got round to be sprayed with filler primer and it still needs some more filler and a finer grit of sanding paper


also I decided that I wanted minilites on my car so had a look on eBay and then that's when a whole set of 1968 6 x 10 wheels off of a cooper s admitingly they really need work as referbing is a must and so are new tyres but all in all and absolute bargin for £80 could anyone tell me how much the wheels would cost to be referbed or powder-coated anyway here they are and there a bit wider than the ones i have on at the moment
7-13-2011
got some close ups of a wheel to sow the bare and painted metal condition
12-22-2011
realy got cracking on the mini in the past few days and the first major thing done was the seperation of the subframe from the engine then later on dad removed the rear subframe from the car to leave us with a shell so dying to discover the condition of the underneath of the car we rolled her over onto a few matresses


after not working on the little mini in a while we thrived for some progress so dicided as the boot floor was in need of desperate repair we would give that a go so we cut of the old metal and tacked the new panel in place by rivits but as we are in the process of buying a welder that is as far as we could go with that panel
yesterday evening was a great sucsess as we were going to be working all over the mini for a while i was in need of a jig as allways ebay threw one up for a reasonable price it was located in london down a small alleyway off a fantastic guy called adrian who is just peicing up the clubby estate he had chocen to restore he had great advice and taught me alot in the short time at which i was there allso adrian was part of a band so a shout out to burnt toast !!!!!!!!




seeing the mini in such a vunerable position my dad thought it was time to crack out his right hand man the angle grinder he loves this thing so he got cracking on the passenger side door step and sills


12-30-2011
update not much work done today but hey ho its progress as me and dad removed the other sill to find more holes and more historic screws buirried umong the rust in the old sills and definantly set on building a very fast road 1098 aiming for at least 80 bhp but i want to lighten the mini as with the roll cage and other bits adding weight and fast and easy ways of doing this that are preferbly not too expencive ? anyways here are the pics



also whilst dad was with his beloved angle grinder cutting off the sills i got to work on saving the front pannel with filler a sander some rust eater and a pannel straightning techneque my dad taught me
1-2-2012
hi my plans are for it to be the original colour with a black roof,custom rollcage, custom made aluminium fuel tank with twin exits,motobike silencer,and a tunned 1098 with twin carbs built to produce around 80 bhp and i brought some old type classic bucket seats witch i havent got round to taking a picture of and the wheels arnet the lightest around does this make them magnisum or not , also keeping the four seats and as much as i can i will keep original but it will be stripped out no carpet hedlining and no dash board just the centre binicle and a cheeky rev counter, also making it a cooper s lookalike with the badges, nuberplate housings and sliding windows and external door hinges and the mk1 grill and bonnet but leaving some hints to its mk3 background hopefully this is what it will turn out like ive got a few years so there is no rush its just about the funds now is o because im not having to buy much but when it comes to the paint and engine im guna be skint but it will be done
also forgot to mention that i will be using kad 6 pot brakes on the front, and the rear kad disc conversion on the rear with in turn saves weight and increases the stopping power ,plus looks alot better than the old drum brakes .me and my dad are going to purchase a welder soon as when we go to bingley hall soon, we will source alot of pannels from there, cant wait to start welding the car back together as it is one step closer to being completed.
1-7-2012
hi all sort of update because my dad just broght a mini!!! its a 1962 mk1 mini cooper 997cc twin carb it great condition for dirt cheap
,ive allways loved the mk1 so was kinda gealous when he got it home and cleaned it up but o well at least i can help him restore the girl to her original beauty
anyway i will edit this later putting the link of the topic on and will explain things in more detail on there
its called 1962 mk1 mini cooper resto>>>>>>> http://www.theminifo...i-cooper-resto/ <<<<<<<<
1-12-2012
Going to bingley soon, going to buy some panels and parts anyone else going up there ?? Love the bingley show I've been two times so far but every time it has got better and better and it's a great source for second hand goodies :)
2-21-2012
hi not updated this forum in a long time and in that time I have done allot to my little mini and have also brought a MIG welder its a sealey mini MIG 130 gas. since the purchase of the welder i have cracked on with the cutting and welding of panels needed to be replaced on my car and in the process have leant how to weld ( well there not the neatest ever but they do the job) and discovered that i need to convert my welder to a larger gas system to achieve more appealing welds but once smooth and covered with filler the weld does not need to be the prettiest thing ever also me and my dad went half's on this 60 pound engine hoist anyway here are the pictures of practise welds and the inner wing repair also the beast of a hoist.
oh and a picture of me and paddy hop kirk at the mini sport stand in bingley hall also pictures of all my new panels and picked up a genuine Leyland wing for 45 pound and two genuine A panels for 30 !!!!!!


For my first time ever welding think i did a pretty good job and i am only 14 but i don't think my welds are getting enough gas so i am going to get the conversion kit to a larger gas bottle so my welds are smoother and the small gas bottles cost a bomb and do not last long at all other than that my rear light conversion is good still needs final sanding to make it perfect but the penetration all seems good and i even made my own metal plate to fill the hole at the top of the inner wing and welded that up too more pictures to come soon as ill be cracking on with the welding and oh here is the hoist
2-24-2012
Hi Just been thinking about my engine plans and did some research on different ways to tune a 998 at first I thought I would bore it out to a 1098cc but after reading about them, I think I will keep it a 998 to keep the revs nice and high. also it will save me some money that I can use to spend on getting my 998 fast, going for about 70 to 75 bhp and be high revving. Will be using a 12g295 or a type of cooper head and all other parts will be upgraded.
8-23-2012
Have done so much to my mini scince the last post but just havent got round to uplouding it however i will do it tomorow. My plans for my little mini have changed. I want to keep the engine a 998 and just tune it up with mods to around 75hp i am deseaming the rear valance, and at the moment i have been working on a door project making my mk3 doors fit mk1 handles and locks with an inside pocket aswell one of my dads great ideas. so far so good and today i welded up the original door lock wholes and started to perfect my fabricated area the door is going to be reskinned but for prefrence i have allready pricicly marked and cut out the handle wholes. Few weeks ago i went to mitp brought some great things for my car, mk1 green rocker cover , yellow spotlights, two door handles mk1, stickers, some pannels and an aa badge pictures tomorow
8-24-2012
as promised the pictures howver didnt manage to get the picture of my boot repair as the camera ran out of charge but these pictures are of my mk1 door conversion project also take no notice of the door skin as i will be replacing this but the mk1 handle wholes will be in the cut out position
still have some more filllering to do on the converted area but it is taking shape nicely and has taken lots off weight off the door as i will be converting the windows to the earlyer sliding windows the pocket i have left at the bottom will stay as a small pocket with the holes welded up nice and flush with a nice chrome strip to finish off the top.

other than that it wont look to much different to the stage i am at now i have trial fitted the mk1 lock and handle and all works fine all that needs to be done on the car for the conversion is a small amount of welding on some plate so the mk1 latch will sit properly and then the conversion is complete on the lh.just got to mirrior it on the right hand which should be easy enough i hope. also i have never seen or herd of this conversion before so if anyone knows anyone or has any pictures of the conversion being done that would be great.

other than that the progress on my mini is gradual as my dads mk1 cooper is in the garage being put back together so i am unable to cut or weld if i dont roll my dads mini out and im not too keen on doing that all the time so the door project has come at just the right time as welding outside is ideal at the moment.

also done my first welding job on a chassis off of a citroen h van for a bloke down the road and did a good job of it and thats about it for the update i will take a picture of my boot repair tomorow and also of the lh back of my car as i have trial fitted a mk1 light and it looks so awsome!! really pleased with the outcome.
8-25-2012
Also sold my magnesium minilights a while ago sad to see them go but change of plan means they were no longer needed also looking out for a 7.5" disc setup some twin 1.75 carbs and mini special wheels or dunlop d1 wheels second hand as places such as ebay rarely have the disc setup or the twin carbs
Opinions on my door idea would be great also couldnt update my boot repair because my computor broke so i could not upload any pictures and i am unable to do so with my ipad
8-29-2012
Finished the filling and sanding of my mk1 door conversion on the inside now just the doorskin to replace also welded in my boot repair but ran out of gas
but now ordered some more which will be delivered on friday which is my birthday which i got air tools for mum let me have them early and they are so handy also the 3" cut off tool means the cuts are so much neater plus i like the sound of the air tools makes me feel more of a pro ! But thats it for now i was hoping to put the rear valance on and start to deseam it but cant due to my gas running out fo ill just get on with tidying up the welds on the boot and seam sealing them cant wait for my gas to arrive so i can crack on.
8-30-2012
another update should have done this a while back its the lh door jam i repared at the bottom and the whole where the pin stops the door operning too far also made my own plate for a small whole in the boot floor under the rear seat
8-31-2012
another update if anyones interrested as its my 15th birthday today, my gas arrived this morning with a birthday gift of 2 pairs of par weld rubber gloves. went to tk max for some new clothes and got welding again repairing the rear of my lh inner sill and a small section of the boot floor/ rear seat welds are getting neater and my patches are getting more intracate and pricise i will update the pictures in the morning another day on the mini tomorw should get the valace fully on
9-10-2012
Went to stanford hall yesterday it was a great show with lots of autojumble so i got stuck in and brought some things my favorite stand was the one laid out on the floor and every thing was 1 pound from that i got 2 mk1 door locks, 5 old switches, a mk1 indicator stalk, a loverly curved mk1 interior door handle, 2 grease guns one is draper and a austin classic mini owners book. I also picked up a mk1 heater for 15 pounds which i am really happy with as it is in good condition but the lucas sign has been painted over anyone know where i could get a new one of these ? I will update pictures as soon as possable
9-22-2012
update finally i have got round to uploading the pictures i have only a little more cutting and welding to do now before my rear valence is completly de-seamed what a long process , i have also made some neat repairs to the back of my car on the drivers side near the rear window and back of passenger window. my door mk1 hande door conversion now works completly all that needs to be done is welding up the pocket wholes, repairing the underneath and finally reskinig then i will have one comletly rust free converted lh door then ill start the other side!! i have decided to have the mk1 switch pannel in the middle insted of the mk3 one i will use the switches i have brought. the pannel will consist of; hazards, lights , heated screen and electric fan as i like the look of the mk1 pannel but would be too complex to change over all steering stalks and i will not have a heater pull out as i am going to replace that with an in engine bay mk1 tap which looks more simplistic in the engine bay. obviously the mk1 pannel is smaller than the mk3 so i will have to chop a section out of where the pannel is held.

went to minispares today and brought an oil cooler renenforcement pannel for copper s cars fitted with an oil cooler any info on where exactly this should go would be great.also regarding my roll cage i would like to have the rear seats in and for people to be able to use them but i do not want to compramise the strength of the roll cage are there any ways around this ?

problem with photobucket will edit this in the morning with the pictures it says out of memory at line 23 if anyone has had this problem or knows what to do it would be very helpful otherwise im going to end up deleting all unwanted pictures.
1-5-2013
found a few on photo-bucket that i haven't shown which concerns me as i did the work along time ago and i have don a hell of alot since then also pleased with how much my welding has improved since these pictures
forgot to mention that i also have a job at a top car restoration and fabrication place in kings langley high steet its called classic autos and although i only clean up at the moment a bloke called george taught me how to lead load last month and having a job means more money coming in that i can spend on my mini hope to have all the welding and roll cage in by next christmas also cant believe how long it has been since my last update my sealy welder packed up the wire feed is now so slow that it is difficult to weld i managed to find a clarke 150te welder for 75 pounds which is a bargin and i much prefer it for christmas i got an apple imac a bench metal folder and a welding trolly also managed to source some sheet metal from a place down the road where i got 3 sheets of of-cut a3 paper sized metal for 5 pounds think thats about it for this update i am going to upload pictures tomorrow i am going to take my laptop outside and update my topic whilst working on my car that way i don't waste a whole day uploading hundreds of pictures my sealy 130 mini mig is now up for sale the part need to fix the problem is £30 and i would provide the link for the part in with the listing i shall list it in the for sale section if anyones interested
1-6-2013
get ready for the pictures



welding in the new floor
putting on the doorstep which i had to modify to line up right as the cheap panel was way out of shape so i cut a slit down the step which i then ran back up and down with the cutter making a slightly larger slit which i continued to increase until i could push the sill back enough where it would line up i then held it in that position and tacked it in place once welded ground down and filled i lined up beautifully


here i cut pieces of metal out section by section the angle on the cut and the angle of the bend where far too hard for me to get right in the vice




new tool roloc disc grinder p36 grit


there was a gap between the floor and door post that had been cut out because it was rotten so i welded it up



still needs more grinding down



still needs sanding abit more

old welder in the background
1-7-2013
yeah when im doing my mini there seems to be 100 things to do before i see any difference most of this work goes unseen but yeah the big gas botlle was a major improvement my latest welds look great they will be shown in my picture update in a minute once i have downloaded the pictures onto photobucket cant wait till bingley hall im buying so many parts there


f for flat
d for bend down
fabricating the strengthening/jacking point but making it without the jacking point


next making a plate to cover the door catch as i wont be needing this on my mk1 door conversion so time to cover those ugly holes


made a repair for my dads car


some more blanking off and grinding because of my door conversion


door conversion pictures

ground down the mk1 latch so that it wold fit in the door frame but had trouble where i fully pressed down the handle the latch would stay inside the casing so i tapped an edge of the casing down and that solved the problem


putting the a pannel on i made sure the gap was equal taked it on at the bottom and welded up the top


made a door latch




the door line up is very good mk1 conversion successfully works need to put the hinges on and reskin the door


a pannel lip bending guide

tools:
mole grips/ welding clamp
hardwood block
welding glove

steps

1. cover the hardwood block in a welding rag
2. place the rag and block on the outside of the a panel
3. set the clamp so it only bends the lip a little
4. clamp the wood and panel on the edge
5. go gradually down the panel until the lip is bent a small amount but evenly
6. increase the clamp so it bends the lip almost all the way and consistently clamp all the way down the panel
7. set the clamp so it bends the lip flat to the hinge panel and do this all the way down the panel
8. continue until the bend is smooth and flush

panel lip bent

in the pictures i did not use the glove so you could see what i was doing


just a fun picture


fitting the wing


cheers appreciate the comments just got the drivers side to do and some other jobs before he gets sent of for his custom designed roll cage i am 15 now so only have another two years to complete him saying that i hardly did anything in the first year i got him
my improved welding


my christmas presents a bench metal folder and a clrke welding trolly also loads more tools of my parents




also prepped the sill to be welded on i welded up all the holes and the jacing mount so it is nice and smooth
brought some black waxoyl to pump into every hole crease and cavity also welded the sill on where i cut the front so it sits smooth with the inner wing


this is how he looks now finally got my topic up to date


ive switched to 0.8 wire now and i am having no trouble with blowing through i have turned the wire speed down and although it takes me longer to weld they look no different and the wire is alot cheaper as i get the 5kg spool instead of the little rolls


managed to do some work on my door today i filled in the holes in the bottom of my pocket so that the pocket looks smooth and finished still need to finish sanding and filling but im back to school tomorrow so there probably wont be any updates on progress until the weekend
1-19-2013
update ive got my mini on a pallet with some heavy duty wheels so now i have spun it around so i can do the rhs


1-25-2013
plan to run the 998 engine with 60-70 hp for the first two years to keep the insurance down ,gather some no claims and means i should have enough money to do as im on a budget but then im going for a supercarged 998 revving at 7800rpm and producing 100bhp to blow the nuts off of most other road minis unless there 1275 up to 1430 turbo or supercharged but there arnet that many out there, it will also show up many unsuspected drivers on track days. Also ive been reading david visards book and he had 65hp which was faster 0-60 than a turbo metro cant wait to drive it has anyone done a 998 supercharged if so what problems have you had and is it worth it because what i am reading now all seems to make it a good route to go down ? anyy comments more than welcome
2-24-2013
Been along time since the last update I've brought so much at bingley including Dunlop d1 wheels brand new for 100 then I brought mk1 hinges which I will be converting to fit my door then I brought some twin one and a quarter carbs a wing and lots of other bits also I have started work on my drivers side and had to do a few repairs to the mini my dad brought that is currently in the for sale section should have pictures soon just got to get round to doing it as my photo bucket is nearly full update soon
3-11-2013
Brought a shell for £50 from that I will be able to get the roof section, parcel shelf corners, bin repair,corner of the front pannel and the metal beneath the rh quarter window .the shell has had brand new wings fitted and isn't too rusty if anybody wants the rest of it let me know i will collecting it sometime this week and will have the pictures of it soon
3-16-2013
update of new shell and roof welding i still have to update my inner wing welding as the photos are on my phone but this is it for now the shell cost me £50 and to be honest is not that rusty


3-17-2013
finished off the roof today i just need to do my final skim of filler on the outside and im done, other than that i have been cutting sections form my shell out for my car such as the parcel shelf ends and a section of the rear seat after i cut all of that out and was waiting for some filler to dry i repaired the rh section of my parcel shelf also i appologise for the roof section i did as i did not have any pictures of me cutting and fitting it into my car this was purely due to stress as it was very difficult to line everything up and not to cut too much off other that that this is the final update for this weekend next weekend i should get the roof done and lh parcel shelf repair and maybe the rear seat section once all these little bits are sorted i can then concentrate on putting my car back on the jig and putting the new floor in

the two holes you see here are for my mate joe's or minimk4's mini as he has two speaker holes here and i had the panel handy so i thought id help him out
3-20-2013
fantastic news today just got a fabrication job at the place i do cleaning at today, so in september i will be starting. the fabrication i will be doing involves classic cars such as lamborghini muras and jaguars making whole panels such as wings or the most detailed repair job the job also cover such things as fuel tanks and radiators mainly made using alloy and all types of welding however tig welding is the main one used very happy today as not only have i secured a job at 15 the job involves what i love to do meaning i will actually be able to enjoy the job with people i already know and am friendly with cant wait to start but i have to find out what kind of school days i am doing to know how many days i will work.
4-7-2013
so i tried to get a mk1 hinge look and have mk3 hinges on my mini so i cut the centre out like a v but this did not look as good as i had seen it on previous minis and after my mum laughing at how it looked i thought id better do it properly , so i made up tome 3mm right angle steel and welded them in behind the a-panel and to the inner wing although doing this was easier said than done as getting in there with the welder was not easy my welds were strong but not the prettiest but will look fine one seam sealed over the doors now work fully on the mk1 hinge and have no mk3 hinge on them i will have to blank up the holes and then mu door conversion is complete and with a mk1 handle and lock and mk1 hinges



need new hinges though as mine are bent as you can probably see in the pictures
4-11-2013
so decided to strip my front subframe as i am going to be sending both off for sandblasting and powder-coating soon as that is only cheap decided that i need to repair my door so i have taken the bottom off and welded in a new piece however this is not finished as i need to make up some bits for each side, when this is done i will be re-skinning the door, done all the marking and drilling on the old skin so i could take direct measurements from that and drill them out onto my new skin then the door will be fully complete, as i cleared and moved my shed the other day i picked up my driver-side door and after only picking up my converted door i was shocked at how heavy the original was its going to be such a weight saver which should compensate for my intense roll cage.
i kitted out my shed last week with a table and some new shelfs as the old ones where abit weak also purchased some cooper s 7.5 disc assembly of of ebay with the driveshaft for 165 which i think is a great price.




old piece cut out and new bit welded in


now the discs they haven't been sent yet but here are the ebay pics


4-13-2013
well i was just about to update when i looked on my camera and the memory stick was full but it did not tell me this so i thought the pictures i took where saving but they weren't i managed to weld on the final pieces of my lower door repair and grind the welds down and i drilled out the holes in my new door skin for the mk1 hinges and trial fitted this to my door i then clamped it in place and bolted the door to the car, once i did this it was just a case of moving the panel around slightly until i got a good fit, the gaps are good all round except for the bottom left corner, this is probably because the part is non genuine so i shall be tapping this back with a hammer
then folding over the skin edge and a few tacks and the door will be re-skinned, to fit the handle i will need to cut out the dip for the mk3 handle and weld up all the wholes and then i will be drilling out the holes and fitting the handle again, with the lh then completely finished i shall be moving on the the drivers side floor and welding that in. only a small update but i will try to take some pictures of my work tomorrow
Just thinking over my engine plans and its going to cost a lot of money for the setup I want so I am going to be buying another 998 clean it up put a stage one kit on it and run that when the cars done this way i can use the car when it's finished as I would be waiting for the funds to build up my engine. This way I will also feel the power gain of my tuned up 998. However I will still be using the same exhaust for both engines with different manifolds so I will be buying the stage one kit and changing the back box over if anyone has a cheap 998 then just let me know
4-21-2013
Turns out I brought a mk2 998 cooper engine instead :) hahaha well brought it off of this forum off of Austinminimark and collected it this Saturday morning, when I got the engine home it first had some lubricant to turn it over and then once I was happy with how it was turning over I started to dismantle it. Stripping it to the block and gearbox. Today I painted the engine and bell housing with bmx green after a few hours of cleaning and sanding so I left with it to dry and finished up my door skinning. Have the pictures Tuesday as I have ordered an sd card reader to come by then as the one I normally use has broken
but I aim for 75 bhp out of the engine which means finding an extra 20 I will be putting in a 266 cam and a 12g940 head a lightened flywheel and mainiflow exhaust
4-26-2013
my 7.5 cooper s discs arrived yesterday and my memory stick arrived today so pictures

with the engine i will be reconditioning parts replacing gaskets and making it all look nice and shiny
the spec is not finalized yet bu this is around what it will be hoping for 65bhp

12g295 head- gas flowed with bigger inlet and outlet valves and double valve springs
duplex timing chain
lightened flywheel
276 kent camshaft
maniflow lcb exhaust manifold
rc40 centre exit
twin 1.25 carbs with sub-stacks
up rated mpi alternator
11 blade plastic fan
alloy 2 core radiator
d-top pistons --- as standard
no boring out just cleaning

lots of pics going to do them all on the next post


what an absolute pig the flywheel was without a flywheel puller it would have never of come off




12a185 head compared to my standard 998 12a is the shiny one


inlet is 2mm bigger


now for the bmc green pictures
after about and hour of cleaning first!
handy tip the top of a halfords primer can fits perfectly in my 998 chambers keeps dirt out
then a big box arrived !!!!!!!!




7.5 inch cooper s brakes come with one driveshaft
2 cooper s drive shafts
mk1 switch panel

£200 posted what a deal off a lovely bloke called kevin
the head has had work done with bigger inlet valves they are 2 mm bigger than the standard 998 ones can anyone tell me if this head is any good im considering to get a 12g295 head but would it be worth gas flowing and enlarging the valves on this one? thanks

the shiny one is the 12a and the dirty one is a 998 head
4-27-2013
dad brought two new minis today one clubman and one clubby estate for £200
6-6-2013
haven't updated in a while purely as i haven't done much work to the car other than fitting the new skin and modifying this for my mk1 handle however i do have pictures of this that i will be able to update later haven't done much due to me having my gcse exams lately which i still have not inished but after the 19th of june i will be free to do as i please and will be coming down hard on my mini and will be working alot more hours to fund it i will be applying for 6th form and so i will have about a 9 week break before i go back to school as i beak up early hopefully in this gap i will be able to get this into my car by then so its just saving up to do for the re-spray and building off the subframes ready for when the car returns from the paint shop, this is a deadline for the cage as by the time im back at school for 6th form if the cage is not in the car im not sure if i will be able to finish it for when im 17 because as of the end of august i will be 16 and only have a year to do it left not so much worried about the work just the funds needed to finish it http://www.customcag...ll&type=Bolt in
picture update time and i shall be uploading more tomorrow as i intend to weld in the drivers side floor pan and if i do that quick enough i should be able to get the door step on and start to fab my jacking mount again without the jacking hole. on the passenger door i still have a bit of filling and handle aligning to do as the hole i drilled is slightly out which makes the handle not sit as flush as it should do but im sure i can sort this out no problem also i had to trim the door skin bellow the bottom hinge as this was too close to the a-panel and foaled also it gave me a bad panel gap but this was purely to do with the pattern part anyway here are the piccys
will also update to where im at now with the door as i have only a little more sanding and filling to do
also the above pics do not show the handle hole being welded up but this is also done but my camera ran out of charge so i was unable to get pictures of that or my welds ground down
6-7-2013
forgot to take any pictures of my door today but things went quite smoothly if im honest apart from the once again pattern panels being was off the mark however what did i expect, again i face the same problem with my door step not aligning in every bend at the back of the step closest to the door latch however i will do the same as last time and cut a slit until it pushes over and lines up but other than that all went well today need to pop down to halfords to get some more red oxide primer as i have run out, i was actually surprised at how much i was able to do today the floor where it meets the step needs some trimming as i welded in a new piece but left it high so i could grind it down level once the step was fitted also received my mini magazine and realized that the only tool i ever needed was the air chisel, this is one bad boy toy that i seem to get a little too carried away with however proves very useful when removing the spot welded on piece of the floor as even though i drilled out the welds it was still on tight but this proved no match for the beastly chisel this tool also came into action when i had to remove my brace bar and showed me how strong my welds are as the chisel ripped through the steel tubing and left my weld behind :) pictures >
6-9-2013
didn't get a chance to update work so ill do it now managed to fit the doo and then weld on the a panel and sort out the door step i also finished welding the floor pan and seam sealed this, today i will be fitting the drivers side wing and hopefully the rh sill if all goes well
dads car in the sun
progress was slow today and it being a sunday i like not to annoy my neighbors so i tend not to do any cutting and grinding so most of todays work consisted on seam sealing aligning and welding up the top of the a panel as flush as possible so little filler is needed, my exams are over on thursday the 20th of june and then you should really start to see the project coming on. however most of which will be going over things and finishing up in certain places as tomorrow i should be able to get my wing welded on meaning the only other major work that has to be done will be converting the drivers side door to a mk1, and re skinning and it will be the next and last whole panel welded in, then its time for the roll cage! how scary but good at the same time
. so there are no pictures today as most of the work done was not important enough to be photographed although i did tack my wing in situ and it looks great to see my car with a whole face again most of the time it tends too look like something frankenstein would have created
6-10-2013
managed to get my wing fully welded on today and my god was the fit at the front poor and so large i welded along the edge of the wing to give me a better gap didn't manage to get any pictures but it doesn't look much different from the clamped on picture but one more stage complete my car now has two wings on and a completed face
6-19-2013
Also I have no more exams !!!! Which means I have 9 weeks off of school to crack on with my car

Updated engine spec

998 cooper engine
D top pistons
Kent 266 cam
Cooper s lightened flywheel
Worked 12a185 head (with larger valves than a 12g295)
Double valve springs
Twin 1 1/4 carbs with trumpets and upgraded needles
Duplex timing gear
Lightened cam followers
Centre oil pick up

This is the spec so far
All I hope for is it to have 55bhp like it should standard and any more ill be a bonus if I'm honest as I do not believe that it would have kept its 55 from factory
6-20-2013
Forgot to add that this flywheel cost me £50 and only weighs 3.56 kg ! How good is that ! So light for such little money, ironic that you pay more for less of a flywheel isn't it ? :)
6-21-2013
Brought an mg metro cam for my engine it's the 3 pin type camshaft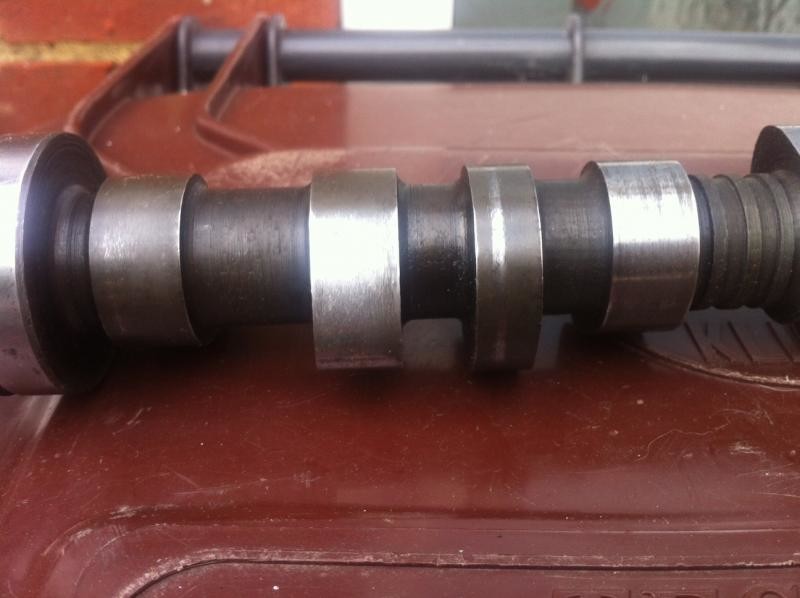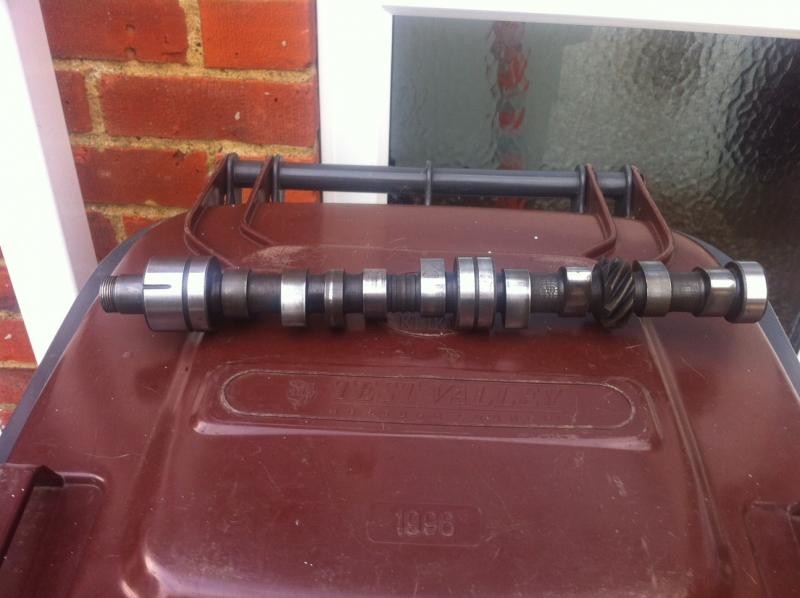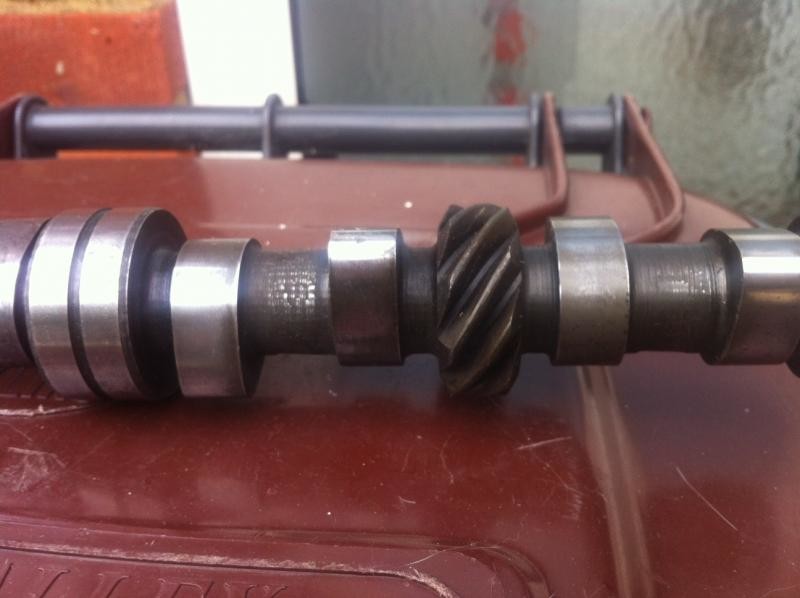 so i split my block from my gearbox today and wow ive never seen so much sludge in all of my life but some light cleaner and a blow of my air gun got rid of most of it, i have some light suface rust on my crank,will this be a problem or could i just lightly sand it off ? pictures to come later when i can find my sd card adaptor
6-22-2013
Brands hatch tomorrow, where I will pick up my cam and have to walk past anything evolving money as I'm skint at the moment
it's the minis fault :)
6-25-2013
Flywheel arrived today and wow is it lighter than standered it's ridiculously light, but i love it that and the metro 3 pin cam I picked up from brands hatch the car should have a few more bhp ;) which is always a plus
6-26-2013
Yeah this mini has been a massive learning curve for me and I am soon to be doing a fabrication job at classic autos, they are going to train me up and I will be working there full time doing fabrication and not part time cleaning as I am now, although I can't complain all the guys there are great and I see my boss as more of a mate really and I get paid £5 an hour and I do it 4-6 on Wednesdays and Thursdays so it doesn't effect me much but it gets me £20 a week to spend on my car so it's not bad and plus its given me a permanent full time job when I'm old enough so I do take the work on my car seriously and try to do my best and love any advice I am given, today I'm trying to sort out the drivers side wing as the pattern fit has a lot to be desired so I shall post up pics later on
7-5-2013
Brought my roll cage today !!!!!!!

6 point bolt in cage from huddersfeild it's the 38mm CDs one so happy it should be here sometime next week cost me £270 which is nearly half the cost of the one from minispares
7-8-2013
Roll cage is arriving tomorrow I'm so exited ;))) have to say that huddersfeild have been very helpfull so far, also I'm welding plates in so does anyone know the right bolts I should use as I do not need the whole fitting kit and would be a wast of my hard earned £ ;) pictures tomorrow I promise
7-17-2013
Struggling to upload my pictures for some reason my computor doesn't like it however I should be able to get some up tonight, I ordered some gravitex which came yesterday I managed to spray one half of the floor and wow that stuff is good, last night I ordered some BRAND NEW parts for my subframes, all the stuff I have purchased so far excluding the pannels has been used so having some new parts around is going to feel strange, there all for the front subframe as I will be sending both my subframes off for sandblasting and powder coating soon it includes the competition rubbers for the tie bars one being more stiff than the other
Oh forgot to add that I will be doing up my subframes fairly standard to keep the costs down, as this will mean I can get the car done quicker and be able to drive it for my 17th in just over a years time, then when my car is done I can save up for the uprated parts such as upgraded heavy duty adjustable tie bars and camber kits, however the only exception to this will be my hi Los and kyb shocks wich are not standard, me and my dad fitted hi Los to the back of his mini two days ago and at the lowest point on them it looks like a street sleeper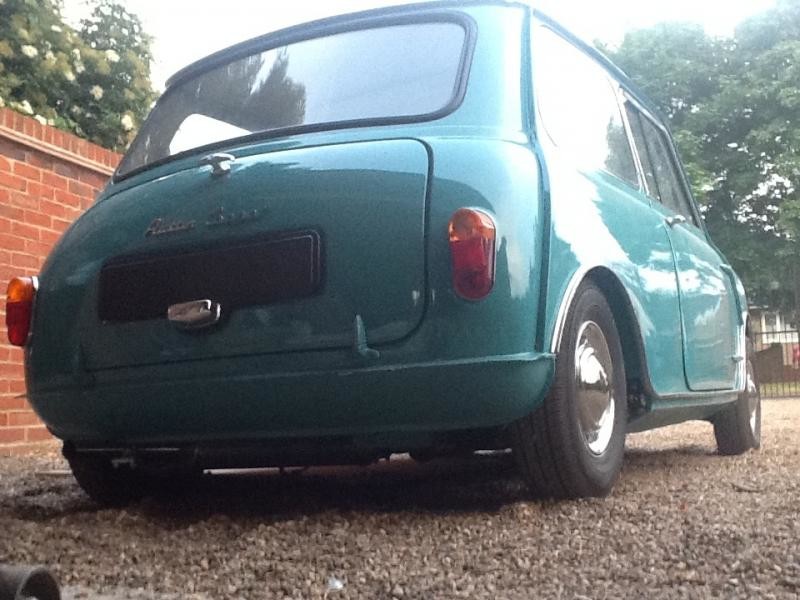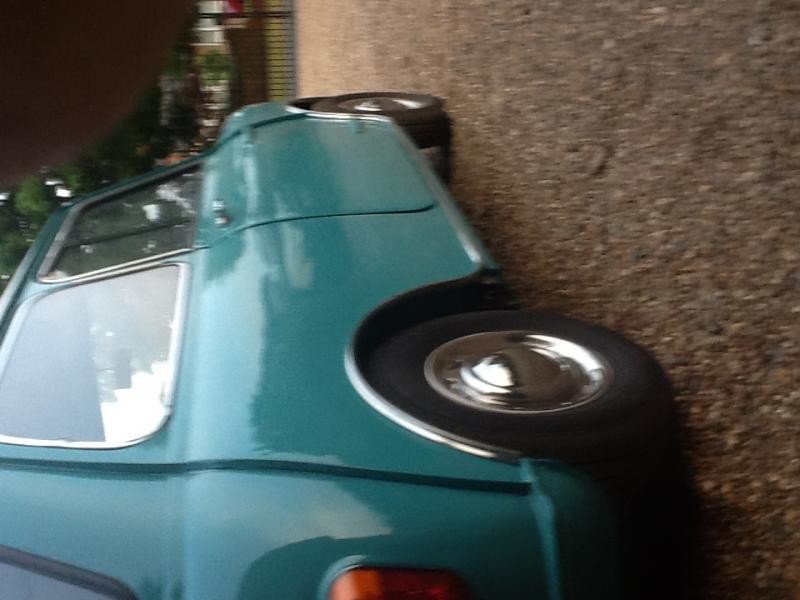 7-23-2013
finally photobucket has let me upload my pictures the last ones of the hub are of todays work stripping the 7.5 brake setup and then cleaning and painting in industry grey which will look very nice next to the black subframe of the car and is nice to paint things a different colour other than black also all my rubbers are being replaced with the race spec hardened rubber for the tie bars i have the optimum kit with the softer rubber and harder rubber as in this case it is better for the handling if one of the rubbers are softer, off the top of my head i cant remember which way
, also i borrowed a ratchet strap of our faithful mini friend/flatbed man "mini-dave" , so i will now be able to get my roll cage in and know where to weld in the plates, also me and my dad have totally stripped my rear subframe and now both subframes are ready to be blasted and powder-coated, hence the rebuild of all the suspension, also once i get round to buying more gravitex the underside of my car will be ready for some inca yellow paint which will be sprayed buy yours truly
and then put back on the car so it will be a rolling shell again whooooo however it will be rust freee!!!! well for the most part anyway
. anyway here are the pictures
more to come in just a sec >>>>>>
7-24-2013
look what arrived today
picked up a std 998 head at 7:30 today it had the following
double valve springs
ported
polished
up-rated rocker and shaft the forged type
new pushrods
its actually been done really well and i only brought it for the rockers and pushrods and possibly the double valve springs depending on wether or not the head my dad just brought has the double springs or not, pm me if your interested in the head and valves as these will just be lying around in my shed also i could take it to mitp if needed anyway ill save that for the classified ads and show you the pictures
7-26-2013
Recived my rebound rubbers today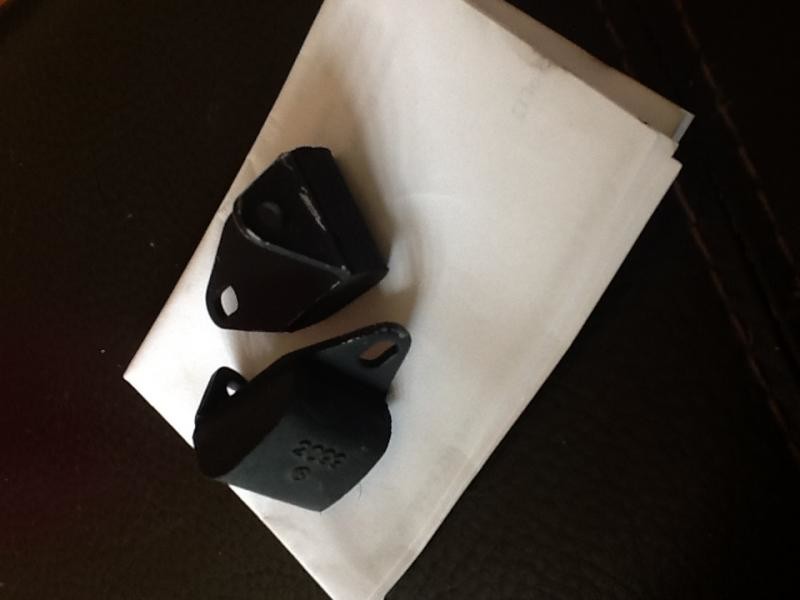 8-5-2013
big update as my memory stick adaptor broke so i had to order a new one, stupid cheap thing anyway i went to minispares to order a box full of hub and brake parts,and many other bits
also mocked up my wheel the car will be slightly higher than this but it gives a good idea of the look also mocked up a stubby mud flap
brought a set of kybs
only kidding
\
on the left of this kit there are some sticky rubber pads what are these for ??
8-8-2013
what a experience yesterday at work i was asked by my boss if i fancied going to the croxley green show in an original mk1 ford gt40, it was unbalivably good and the acceleration was like nothing ive ever experienced, and the sound of that v8 with 4 webbers sticking out right behined your head its undascrabable the experience of that car and the crowd it brought thanks very much to classic autos for yet again another great experience and a big thanks to aubury for making sure i went !!!!!!! what a time, saw a few nice minis there i shall try to get the pictures off of my phone later but wow what a car
more to come tomorrow
8-12-2013
went to mitp on suday and that was great exept for the crash which left me feeling abit sick as i hoped that somthing like that would never happen to me, watching that lovley car hit the barier, and its not like a normal car either because the owner has put alot of time and effort into that car and it means alot more to him, glad to hear that the driver is okay and that he can fix it, i didnt really get much as it lacked a little on the autojumble front however me and my dad picked up a manifold each for £15 which i got to work making the exit smoother as soon as i got home and i also brought a towing eye cause i love the look of those things and it might come in handy one day
hopefully not though
pics:
feels so good welding some metal that is thicker than the minis
they still need abit more filing though but alot better than before
8-14-2013
so i was thinking the other day as i am spraying the underside first i need to get anything that touches the floor welded up so it does not disturb the paint but doing this basically finishses off the inside anyway so i thought i could spray the inside,boot, engine bay and the floor all at once then put the subframes back on and all back together, put the engine in and steering etc and hav the car running and then mask everything up, prep the body and then spray it as this way i would not have to worry about ruining the outside paint by putting things on, is this a good way to do it and has anyone who has done it this way had a problem? as i cant see why i cannot do it like this if i mask things up properly, as it means the car will be more complete sooner as i dont have much work to do before i do the above spraying and i am getting engine components and suspnsion bits for my birthday on the 31st so that will not be a problem
hope how i explained it makes sense
8-27-2013
Quite a big update to come I'm out tomorrow so it should be in the evening but the mini forum was not working for me today I'm not sure why anyways I will have the pics and full update then, basically I have cut out all the spreader plates for the cage, made the switch pannel gap smaller so to allow for the mk1 pannel, I have mocked up my switch pannel with battery cut off, lights switch and fuel pump switch,and today I have cut out some of the rear seat and bins, also I weighed my doors and alowing for perpex and hinges on my mk1 style door there was a 10kg difference!!! Meaning I have saved 20kg in total just on the doors alone, hopefully this should cancel out the weight of my cage
8-29-2013
so i just recived my new bottle of gas today so i got cracking on with my roll cage spreader plates piccys
best pic i could get of the plates before my camera ran out of charge
now i just have to drill out the holes and bolt the cage in then i can get it back on the jig for the bottom to be cleaned, stonechipped and then painted then i move onto the boot and then the engine bay then subframes build them up and finally the inside of the car then it is on to the bodywork filling priming and getting gaps tight
9-2-2013
thank you and yes i have de-seamed the rear of the mini for that racer look also compared to my dads i think it makes the car look wider, and a bonus is that i don't have to buy an expensive rear bumper and overiders
and there will be no 3 layer rust sandwich, also the colour is no secret its going to be the original inca yellow with a gloss black roof, I'm back to sixth form on thursday so progress may become slow again as the start of term always means a shed load of great coursework and revision yaaay so the weekends will be the only mini time available for another 6 weeks but hey ho a year left to go but i reckon i can get it ready for my 17th and then test it to the max with the 2015 imm in Lithuania which is about a month after i pass my test whoop whoop looking forward to it already
picture of my 99p tie bars, brand new never fitted, they were for a project that he sold bargiiiiiiinnnnn
9-3-2013
so im doing abit of weight saving on my mini to try to compensate for the heavy roll cage i have put in here are the weights so far
kerb weight
Mk 3 Saloon Mini 1000cc (Manual Transmission): 638 kg
added weight so far ( + )
roll cage + 35kg
roll cage plates + 2kg
roll cage bolts + 0.5 kg
mk1 door hinge a pannel plates + 0.5 kg
but then to save weight ( - )
converted mk1 doors from 16kg to 6kg each
doors - 20kg
flywheel - 5kg
Bonnet Hook Safety Catch - 0.051 kg
no rear bumper - 1.650 kg
no dash Bottom Rail Cover Mk3 - 0.413 kg
no Parcel Shelf Card - 0.721 kg
no Rear Companion Bins - 1.8 kg
no Rear Companion Bin Trims - 0.2 kg
no Rear Seat Cushion - 2.225 kg
also i plan to change all the glass to perspex or similar except the front windscreen does anyone know how much weight this will save, im trying to loose weight off the car without being to radical, as long as it is lighter than standard then i am happy also im making a chart of the weight of my car and the things i remove
9-4-2013
got my cocacola tin for my lottery funds !
also went to pound land today for some tool box separators for my 650 piece bolt set
9-7-2013
so i have finished bolting in one side of the roll cage completely now and i can safely say i am not looking foward to the other side as drilling through 4mm"s of metal takes its time especially as you have to pilot drill it then go up and size and then up a size again !! o well so i am going to leace that side for about an hour as i think i will go insane drilling out another 11 holes so i shall start to lighten my rear numberplate holder ! such fun
all the welding heat took my loverly stone chip off
not that it matters as i have another 4 litres of the stuff to throw onto the bottom.
so i have just lightened my mk1 rear number plate holder from 500g down to 240g so over half the weight saved i know it may seem petty but when you combine this with other lighter parts then it all makes a difference also forgot to put pictures up of the remote gear selector my dad won for me and its ridiculously short gar stick haha and also forgot to mention that my dads mini is 100% completed and is going in for its mot soon!!!
the holes still need to be finished so take no notice to the unfinished edges
decided to have a go at bolting the other side of the roll cage down and i have done all of it now
just some tyding up to do thank god, so here are the pics of the cage, also i am getting door bars a dash bar and a mighty minis harness bar so it should be nice and strong and rigid, do love the look of a cage in a mini makes it look so much more built ready for the track.
also i shall be adding strengthening plates to the subby mounts and the piece with a gap that joins the middle pillar thats it for today as im off to my aunties for her b day
9-8-2013
small update as i don't like to make too much noise on a monday so i decided to do some cleaning and get the steering wheel drop bracket off which had been servearly bodged on with random bolts and took an age to get off.
take no notice of the bolt missing in the pic above as i had to put a washer behind it
you can see the dent in the dash rail in the pic above caused buy an overly long bolt being used which wasnt even tight!
had to put weld on the bolt to keep it in place as it was on of those Phillip ended bolts with such a flat head that no screwdriver can hold on to. also does anyone have pics of one properly mounted so i know how it should look? thanks also i have 5 weeks at sixth form left till i get a week off meaning i have 10 days (weekend wise) till then, in this time i want to have the underneath, inside, boot and engine bay ready for paint, hopefully not too optimistic as i would like to do it before we get too far into winter ad its mainly just cleaning and prepping left
9-12-2013
i have supposedly purchased off of ebay i say supposedly as the guy is saying i can collect and taking an age to reply each time however he said i could collect tomorrow it is
mk1 steering wheel
mk1 steering column
mk1 indicator stalk
mk1 rear lights and reverse lamp
mk1 bumper overiders
mk1 wiring loom
i aim to convert the car totally to mk1 and i believe that the mk1 loom is the easiest option as it means very little wire changes as i am using all the mk1 stuff like engine switches etc, you might ask why but i just like the older more simple way of doing things like the washer pump you manually pump the fluid out so very little can go wrong and it makes you feel more connected to the car as you are more of a part of it anyway has anyone done this? and will the mk1 column fit the mk3 rack i already have ?
9-15-2013
small update as the boot is now ready for paint !!!! i have slaved over the last 2 days to try and get rid of all the mucky gunk and crud out of the boot removing all of the old seam sealer and then re doing it in between the 1st and 2nd coat and it looks lovely i was worried about the boot repair as the panel was absolute rubbish and didn't fit at al making it a hard job to weld but i think its come out well considering and i'm not going for a show room finish so the more practical stone-chip in the boot will mean i can put all my tools and spares in there without having to worry too much only two pics as we seem to have a shortage of any charged batteries in our house at the moment, hoping to get one section ready for paint each weekend, however i might not get too much done next weekend as i'm of on a field study in wales for my a level studies , we leave on the sunday so i might be able to get abit done if i do my packing on the friday ive got to get the:
underside floor
underside wings
engine bay
boot floor
all done by my next holiday in 4 weeks time, i have a week off then and this is when i want the whole underside,boot and engine bay sprayed on my car, this then means i can build my subbys up, paint the inside and then put my engine and everything in then mask the whole lot up and spray the exterior meaning i wont scratch the paint buy putting things back in like the engine and means the car will be more finished in less time, anyway here are the pics
9-21-2013
been busy today on the roll cage today making gussets from the cage to the car in several places i received my step drill bit today so i could cut holes up to 32mm, it works really well, was meant to go to minispares today but by the time we were ready it was closed
so next weekend i shall be going there to get my mighty minis harness bar and door bars here are todays pics
9-29-2013
update !!! i have done all the gussets on the other side of the cage now and have ground the welds down n all of them, i run out of primmer so i have been spraying the only paint i have which is inca yellow top coat onto bare metal
however it should keep the rust off till i get some primer, i have also made out some little strengthener plates for where the rear bins joined the pillar as there is a massive gap here on both sides, i have welder up the tunnel ash tray holes and seam welded the hand brake mounts up for when i get a little bit childish with the handbrake
. dad being the worlds best person at finding expensive things cheap on ebay has found my some twin 1 1/4 su carb trumpets witch are ally with a golden coloured gauze these should look and sound amazing, thats it for another week i also ordered some sound deadening pads which you can see in the pic there £20 for 4 and i have cut on in half for the quarters and will do the same for the spare ones on the doors these are alot thinner than the std mini pads so should be abit lighter
haha but they make such a big difference to sound resonation
also i have now got forza horizon for my xbox and have designed my mini on there too difference is on the game my mini has 130bhp
9-30-2013
update as mr posty has been today he delivered:
trumpets
wire wool to clean up my welding torch
4 marker pens for my sheet metal
a monster of a wire wheel for my angle grinder to strip the crud off the floor
and most importantly my mum and dad picked up my subframes from the powdercoaters !!!!!!! so i shall be cracking on with getting the underneath done so i can get it rolling, off to minispares tomorrow as teachers are on strike at my school then i finish at 12:30 on wednesday! loving the time off at the moment anyway here are the pics, there will be more detailed pics of the subframes when i rebuild them but i don't want to take too much of the bubble wrap off as i will be keeping them on my shed for a little while
ignore the fitment of the trumpets they are upside down and the bolts are not correct but its just for a quick pic
there lush
10-1-2013
done a little bit of work on my subframes so far today need to clean up my upper arms before i can put the rhs hub on.
just mocking up the brake lines if i m able to go to halfords today i should be able to get some hammarite black so i can paint my upper arm and get that fitted.
well im very pleased with todays purchase with my door bars and mighty minis harness bar makes the car look so much like a track car i love it, should make such a difference with strength as well.
had to cut down the door bars and weld these up
10-6-2013
been busy with the extra two door bars, i have cut triangular sections out of the bar and bent it to give it a nice kink which makes it stick out of the dash alot less than when it was straight i have also done the other door bar but have put this behind the seat to add further strength and to make it look more like a race car
also decided to solid mount my seats so i welded some steel tubing i got given to the car angling the edges and bolting it to the seat through the floor, pics
cheeky picture of my brother deciding he wants to drive my car
thats it for this weekend, my work has invited me to proper go karting on the 25th at rye house should be good theres 8 of us going so were going to do teams of 4!!! god i love where i work, have ordered 6 cans of primmer as i keep needing to cover up bare metal but have nothing to do it with so they should turn up tomorrow. till next weekend.................
just brought these for £20 for all the running gear there only in dunstable
10-13-2013
been busy this weekend was at a huge classic jaguar autojumble today with work yesterday i received my air belt sander which is brilliant for grinding down welds in corners, and have been solid mounting my passenger seat also bolted the seats in on the front and found out that i am going to need some of the chrome seat adjusters that bolt onto where it mounts at the front these should give me enough movement to allow me to get it to sot perfect on my mounting bar.
did the passenger seat slightly further back
10-20-2013
curiosity lead to this today
so it started with this:
card template
then the second template
metal cut out
and lead to the end of todays work with this before all of the rain and lightning
i decided that i wanted some arches so i made a card template, then another, i taped and sprayed this one , until finally my dad cut it out onto steel sheet, i then bent the steel into shape forming it around a bucket with the same radius as the wheel arch, tacked it on, and welded it up, this is not finished as it will not look so stuck on, as i will be making it flow into the bodywork alot more however the basic design is there and is to be improved
10-29-2013
Decided against the arches, it's going to take to long and be too much work and I just want the car done so I shall be cutting it off tomorrow, oh well worth a try, today's work has been more prep for putting the car back on the jig for the bottom to be sprayed, so has involved grinding and welding up of holes etc, also found another bit of rust on the lower rear seat that I will chop out once the car is spun over, tomorrow wil be removal of boot bonnet and a section if the cage that obstructs the jig pole and also the cleaning up of the engine bay and repair of the shock mount bolts, mucky work but it has to be done in order to spray underneath pics tomorrow
10-30-2013
update of todays work:
finished cleaning engine bay- needs de greasing ready for paint
took the arch off as this would have taken too long and i want the car done
ground down remaining spot welds
welded up the bonnet badge holes and the other holes i drilled for the bonnet strap as these were in the wrong position
moved things down to my shed
put seats up in garage loft
cleaned the garage floor of engine bay and other mess
work on the car from 9am to 2pm as i have lots of fun english, graphics and geography coursework due in after my week off that we are given to rest from the hours of homework we have to do each night, so makes sense they give us more work than normal over our time off !!!!! also i have work on wednesdays and fridays from 2:45 to 4:45
what my welds took to get off
until tomorrow............
11-1-2013
grease caps turned up yesterday, i had a whole days work at my workplace fabricated some ali panels for an AC ace they are making, also learnt how to gas weld ali, used all of there metalworking tools and it was great so glad i got a place there.
update of todays work
welded both mk1 hinge plates on
sorted out my newest addition of old draws
tidied up my area
bit more grinding
made my self feel sick under the wing with a massive helmet on making my head compress
until tomorrow
also just ordered these
11-4-2013
my engine breather filter turned up today and i have been searching around and have found a place to do some of my engine work
im having :
crank regrind
crank lighten
wedging of the crank
con rods balanced end on end
clutch balanced
polished crank journals
flywheel balanced
whole system balanced as one
for £200 plus VAT which i didn't think was too bad, when i have the money i shall arrange a courier to deliver them and then 10 days later i have a fully lightened and balanced bottom end, then i will be purchasing all of the engine parts that i want replacing and then give the engine to my engine buider at work to do properly inc new cam bearings etc
11-5-2013
998 of course !!

It's my 1968 998 cooper engine

Spec should be near this :

Cooper s forged rockers
12a185 head ported polished and with big valves and double valve springs
Std d top pistons
Mg metro camshaft
Isky cam followers
Duplex lightened timing gear
3.5kg lightened flywheel
Wedged and balanced crank
Lightened and balanced con rods
Centre main strap
Centre oil pick up
Uprated diff pin
Grey clutch
'S' type uprated big ends
Twin 1 1/4 carbs with trumpets

Hope for 60-70 bhp would be happy if it was between 60 and 70
11-7-2013
update lots of work done last weekend and a few things have arrived so
arrived:
top arm repair kits
rear adjustable camber brackets
breather filter
done:
got it on the jig
welded up all roll cage plate washes on the bottom of the car
welded some plates underneath onto the solid seat mount
started to clean up the underneath ready for stone chip.
welded mk1 hinge plates on.
11-17-2013
small update
brought 3 angle grinder discs for my chop saw and what a machine that thing is cuts my 3mm steel easy and fast and is accurate love it, started cutting out my seat mounts, done some more cleaning of the floor and my dad got a new car, a 1959 mk1 tvr grantura that needs a shed load of work, just cant get over how chuffed i am with that saw!!!!!!
11-23-2013
update as i have been busy today making my solid seat mounts for the front of the seat to bolt onto these are also extended brackets to allow the seat to go further back i have made mine so that i will weld them onto the crossmember but i could have also done these to bolt in to the standard mounts
also got the new source of heat in the garage sorted it is no longer warming up by moving around now we have and actual wood burner setup !!! makes such a big difference
done this and had a big garage sort out so now its nearly neat and tidy thats the update for now, until tomorrow.............
11-24-2013
update i have welded the seat mounts in, drilled holes in this for the seat subframe, removed the latch off of the subframe and fixed the seat runner catch, also i shortened the front bolt mounts on the seat subby so my seat would sit at the correct angle
welded some new bolts in the runner latch as it had one rivit and half a bolt holding it in before
also strengthened my welding trolly as it was abit wobbly so i added some triangles in
also had a sweep up and fixed my earthing clamp
update next weekend >>>>
11-26-2013
got the day off today as 6th forms power was out !!! so decided to do some more on the car, cut out all the pieces of metal to make the divers side seat brackets and finished making one, also seeing as i am solid mounting the front subframe i decided to weld on some metal plates which were 2mm thick to spread the load abit better, also little bits like this allow for a more powerful engine if i ever want to do so down the line
also picked up a big steel table last night for my dads car, been busy
made the cutting disc a little smaller with todays cut outs hahaha
sorry for the poor quality my camera was out of charge
thats it till friday as i have another teacher training day then so im off !!
12-8-2013
update i have been quite busy doing the car making the last seat mount and welding both the rh mounts onto the cross member, also i have been getting the car ready for the xmas holidays i believe my 6th form breaks up on the 21st december. as during the holidays i will be spraying the inside, the underneath, the boot and the engine bay fully. To then hopefully have the car rolling, i will have on its new subbys and old steel wheels incase the new wheels get damaged. so basically i have been getting the car nice and clean, welded up and seam sealed all for the xmas break.
also have my audio system, i didn't want one but i like music to much especially if I'm out at night with some nice music on, so i have gone for a fli system with a fli trap active 1200 watt bass and amp, 4 fli 180watt speakers and a not too over the top head unit as i don't like the look of 50 purple buttons on the screen of the head unit and so went for something more fitting. this means that the weight saving has gone out of the window slightly as this weighs a fair bit however the weight saving does mean that the roll cage at least has been canceled out however i always have the option to take the audio out of things get serious
got a few more weeks to get the inside and engine bay ready for paint
cant wait for it to be rolling
12-11-2013
just received my spray gun cleaning kit, also ordered another but cheaper spray gun for my primer as i want set guns, the cheaper for primer and the more expensive for proper paint
will update when other goodies come from mr postey
12-12-2013
more goodies arrived today
spray suit
stonechip gun as the last one got clogged up haha
12-15-2013
been busy this weekend had had to work saturday morning and was out with friends in the evening so i have caught up on the mini today
sorted out all of the floor taking off all of the remaining red oxide i put on as this stuff and my stone-chip spray really react badly. once this was done i sanded down any lumps and bumps and then sprayed over any bare metal with some rattle can primer ready for stone chip.
only managed to get the whole rhs floor done and the rhs underwing, also managed to spray all of the boot floor and arches before i ran out of paint
so had to order some more. however on the plus side 3/4 of the floor is sprayed and the remaining that isn't sprayed is ready for paint as soon as i have it. The inside of the boot is sprayed with stone-chip and is ready for yellow and the engine bay needs a quick rub down and primer, so all in all realistically i should be able to spray the whole underside, the inside of the boot and the engine bay at least by the end of the xmas holidays. hoping to also have the inside of the car done also however it depends on how well spraying goes haha.
Also i want a x in the rear of my cage as i think this looks really cool through the back window and also adds to strength, how hard would this be to cut right? as i have supplies to the right metal so would easily be able to get it.
thanks
just ordered some paint stuff !!!
cant wait until my car is rolling !!!!
12-16-2013
received this from postman today - good old tiger seal, love pumping this stuff everywhere to keep the water out
put the mac in the way of my messy desk view as its covered with english coursework at the moment
12-17-2013
stuff has arrived
more stuff to turn up, will be stonechiped fully this saturday ready for paint !
12-18-2013
paint stiring sticks and paint mixing pots arrived today although i think i have more than i need hahahah anyone for a paint mixing pot ?
12-20-2013
just brought all my paint for the car
come to around £450
5l bespoke inca yellow
5l high build primer
5l thinners
400 grit paper
800 grit paper
all in celly, the colour had to be custom made to match the inca yellow as they only had inca yellow in 2pack also the celly is more expensive, however the 2pack is far too dangerous for me to spray at home
happy christmas to the car, once again making me poor hahahah should have just rustoleum painted it, pictures of the paint tomorrow
12-21-2013
so i have done as promised a small time-lapse video of my work today from around 1:50 pm - 5:30 pm, started so late as i was out working with my dad and so didn't get back till around half one, this is just a video of my prep and stonechip of the whole floor, sorry if it isnt that good as it is my first try, the whole floor will be given a second coat tomorrow with the litre i have left then it is ready for 1 coat or 2 in places of high build primer just to cover the existing surface ready for the inca yellow this is the same for the boot and engine bay once this is finished in the yellow then it will be a case of building the subbys up while the paint sets. once they are built they go on the car and then it will roll. after this the inside of the car will be prepped and then finished in yellow and this will probably be all i can get done in the xmas holiday, as i also have to revise for mocks. then its just a case of putting all of the brake lines on, master cylinders etc ready for when the engine is done. while i am waiting for the engine i will begin the prep of the whole exterior of the car. the engine will then go in, all holes etc will be masked up, sprayed then flatted back polished and then it is just a case of putting it all back together and then getting it through mot hhahah and passing my test of course
also pics of finished stone-chip result tomorrow
almost forgot the pictures of the paint
12-23-2013
paint !!!!!!!!!!!!!!
sprayed the underside of the car, engine bay and boot. in inca yellow.
gave it 1 coat of primer over the gravitex
gave it around 3-4 coats of top coat making sure it was tacky inbertween coats
resulted in a finished floor hahah so excited
ratio of 50:50, sprayed with a hvlp gravity fed gun with a 1.4 tip. using high build primer. probably used just under 1 litre of yellow in total today, will get more pics of it tomorrow in daylight and not garage light, as there is a significant change in colour in natural light, however I am very happy with the finish and cant wait to build up my subbys and then get it rolling and then do the inside of the car
if anyone needs 1st time experiences on painting feel free to ask me, as i know that this was handy for me when i was researching how to paint
now 1st try of actual painting after primer on painting on my base coat
just after the final coat
more pics tomorrow but it is actually more yellow than it looks hahah so happy right now i have been waiting so long for it to be in paint, now its time to build up them subframes
12-27-2013
this is the look i want to go for the historical racer look, without the stickers and with dunlop d1 wheels but i love that clean and low mk1 racer look
have welded these up but didn't get pics as I'm waiting for the paint to dry
there will be a good update tomorrow i promise it is just one of those days when things don't want to go your way,
plan for tomorrow is:
drill out sheared bolts
tap and die new threads
put rear camber brackets on which are zinc plated !
put radius arms on
put trunion subby mounts on with the race spec uprated rubbers which are purple !!
connect up the braided brake lines
need to buy shocks and rear hi los there are a set i have my eye on for £80 cheaper than the normal set which havnt been unboxed which includes kyb shocks and rear hi los, so i am tempted to get these, just need the boss to pay me then i can go and collect these then, once i have the shocks and trumpets i can bolt on the rear subframe and then continue the rebuilding of the front frame. the deadline for a rolling shell is the 5th of jan so not too long at all fingers crossed i get it done in time.
12-28-2013
question
these are my shock mounts, are they welded enough or is more weld needed as there seems to be gaps where i can look right through, also can i just put this mount straight on or do they need to be painted as i cannot tell wether this is e coating or actual spray ????
thanks
12-29-2013
waste of work today spent most of the day sorting out bolts etc to put my radius arms on, put them on and realised i needed to bolt on the trunnion
lets just say i was less than amused
basically a whole days work gone ! i will be bolting the subframe onto my car tomorrow and then will build it on on there however here are the pics of what i have achieved today;
welded up the shock mounts
sprayed with a high impact paint
got all four subframe mounts on and in place
pic just after i realised my mistake
but tomorrow is another day
12-31-2013
today has been successful, the rear subframe is on woohooo!!!! , had trouble with the large poly bushes so converted to the earlier style of mounting with the two bushes instead which worked yaay. the steering rack is painted and i have new uprated track rod ends to go on and new gaiters and body mounting foam. the radius arms are ready to be put on and 1 trumpet is, i shall be keeping the standard trumpets on the rear for the time being. also got one shock mount in place, couldn't do the other as i need to get my dad who knows what he is doing to tap and die it out for me haha. actually a big thank you to my dad especially for today as without his help and patience i wouldn't have been able to get the subframe on. anyway time for the pictures ......
1-1-2014
update
1 radius arm is on and the wheel is on, lowered the trumpet and just have the other side to do before the back is lowered
wow my mini is finally off the jig for the last time. it is sitting on its rear wheels properly. so low!!!!!! but i have good clearance. i cut the trumpets down by 20mm each side and this seems to be a good low ride hight. so happy just need to get its front subframe built up now and it will be sitting on all of its wheels pictures in just a sec as my phone has just ran out of battery !!!!
so happy it looks so freaking phat and low
will have better pictures in the morning with more light
doesnt look very low in the pictures however it will show better in the morning
1-2-2014
well i got the car out in the sun today, sprayed the engine bay and boot and then sprayed a wing for a test panel so i could have an idea of what it would look like however its just one coat on the wing without the wing being sanded properly or primed.
thats it for today, tomorrow my plan is to strip and paint the top arms. then fit them to the front subframe along with the lhs hub and disc and all of the tie bars and lower arms, bump stops rebound buffers and subframe mounts. then all that the subframe will need is the rhs hub and disc then it goes on the car and it rolls !!!
want these mirror mounts
or do i get ITAL mirrors ?
or
opinions welcome
1-3-2014
update time as i now have the front subframe on and ready for hubs tomorrow which is when it will be properly rolling
todays work :
clean up top arms
rebuild the top arms
paint top arms black
clean up tower bolts
spray tower bolts
re-paint steering rack
fit new gators to the steering rack
fit the steering rack to the car
fit tie bars, top arms, lower arms, rebound buffers,hi los etc
mount the built subby to the car
cleaned one on the left
put the union jack blanket on the roof for fun
1-4-2014
IT IS ROLLING ON ALL FOUR WHEELS !!
put the car down onto all fours at 6pm today and rolled it out of the garage, ended todays work well as it was all prep for rolling such as rebuilding hubs with new bearings and ball joints, track rod ends and subby mounts etc anyway i am very happy with it and cant believe i got it done a day before my deadline.
couldn't get the ball joints to budge very easily, one came off with a bit of persuasion but i had to heat the other up for quite some time with the useful and regally used blow torch
cleaned with new ball joints
bearings removed
new bearings fitted
said goodbye for the night as the garage door was closing
Getting the engine sorted out soon by a sound guy at my work called Lee, he does all the engines at my work and he is currently building a turbo mini. we are going to build it after work hours, hopefully and i shall be helping him out. So happy i can get my engine sorted out by someone i know and trust, so that will be the next large step for my car the 60bhp+ 998 beast of an engine going in
1-5-2014
small update today mainly tidying up and making the shell easier to move around such as steering
cleared up in my shed
thats it for today and im back to school on tuesday
1-8-2014
Latest read >>>
1-15-2014
Been busy on the car when I can have been prepping the inside for paint including rear parcel shelf all of which is very time consuming as I have to hand sand a lot of the areas as they are not big enough for a sander


Also brought a bucket seat for the drivers side, a cobra Monaco s for the sum of £40


Which I shall be collecting on Friday
Also big news .... I have sold the cooper engine, got good money for it and it will help fund the build, plans for the engine now is to keep my original engine use the head that I got with the cooper engine which has been worked, fit the MG Metro Cam and my twin carbs, run it with a centre rc40, electric fuel pump and uprated carb needles should be well over 45bhp I have to say I would be happy if it was over 50bhp but doing it this way means only minimal money has to be spent on the engine as it will be gaskets etc and so I will have more money for other things the car needs as my deadline is only 7 months 10 days away.

The engine will remain like this for around two years with maybe a few extra mods over this time however by the time I am 19 the insurance will be much lower and I would have been busy building a 1340 with a 16v head with hopefully around 120bhp !!!!! Cannot wait
1-18-2014
been busy today trying to mount my bucket seat. first i fabricated a rear box section for the seat which worked but didnt allow the seat to go far back enough, so i had to modify the subframe from my classic cobereau seats. this works and is now in situ. also i have been busy with inside prep and should have it in primer next saturday. then it is bingley hall !!! can wait.
love the feel of this bucket seat as it gives good driving position and feels nice to sit in an so was worth the £40 i paid. also a nice guy called Malcum came down from scotland today to collect my 998 cooper engine. was a little sad to see it go but it is going to a good home and the money gained from this will help me finish the car. thats it for today more tomorrow
box section which worked but didnt give a far back enough position
thanks
also want an internal gear selector now !!
1-19-2014
inside is sprayed in inca yellow!!!!
few places need a rub down as i have one or two runs but overall i am very happy with it. but i hated doing it as the roll cage especially, made everything alot harder to do.
got two coats of primer down before i did 3 coats of top coat. happy with the finish, might buff up areas which are seen so they are shiny hahah next step ENGINE IN. so work from now on will be things like the brake and fuel lines, master cylinders, pedal box etc. oh and of corse a little bit of 998 tuning.
running it with:
mg metro cam
lightened cam followers
lightened duplex timing chain
uprated 12a185 head with big valves
double valve springs
pressed steel rockers
twin 1 1/4 carbs & trumpets with socks
oil cooler
std ignition
mocked up the carpets to see how much they cover as it is alot i didnt go into too much trouble trying to get a pristine finish as it would be wasting time for something that will sit under a carpet for the rest of its life. also getting the hang of spraying so should do a good job of the outside when the time comes. however for now i just want the engine in and running brakes working etc cant wait to do a "first start up in 3 years video" anyway now for the pictures
1-20-2014
brought a 2 ton low entry jack today so tested that out as i will be using it alot, also have been busy painting things that are needed to be on the car before the engine goes in
did paint this but didnt get a pic
also brought some ital mirrors off of ebay
1-21-2014
Done some more tonight, painted a few things and then put my pedal box back together and then on, also I got busy with cutting the carpet and now it is ready for some underlay


1-22-2014
Mirrors turned up today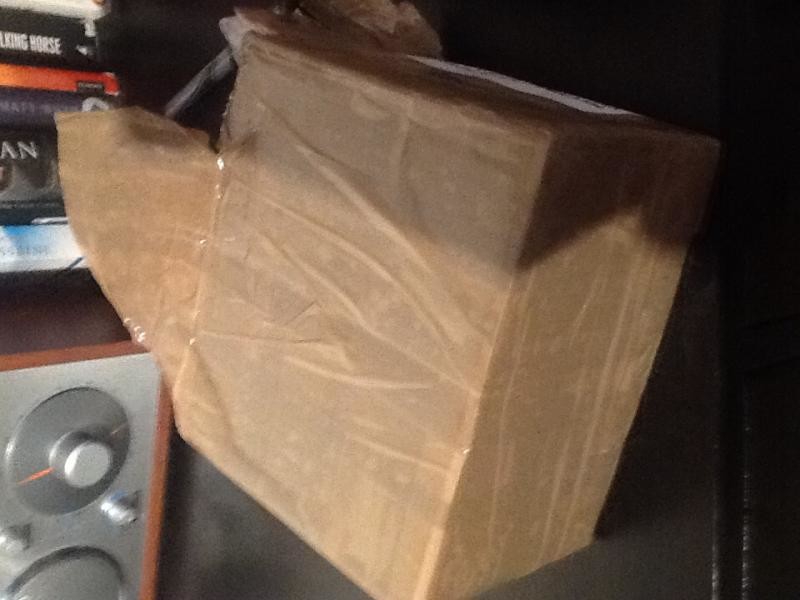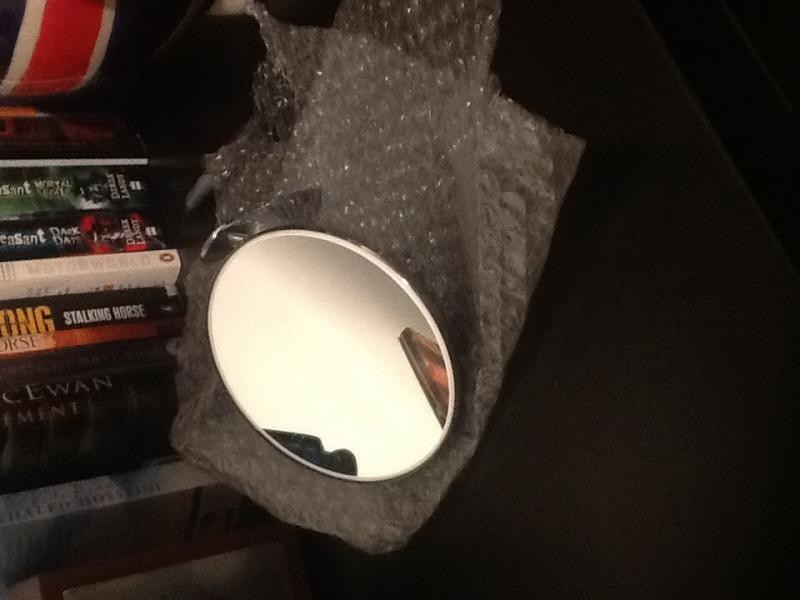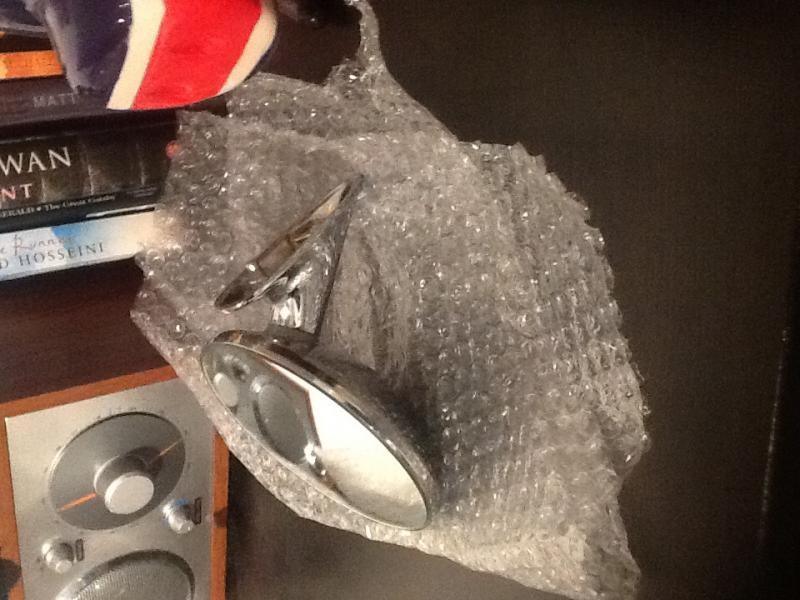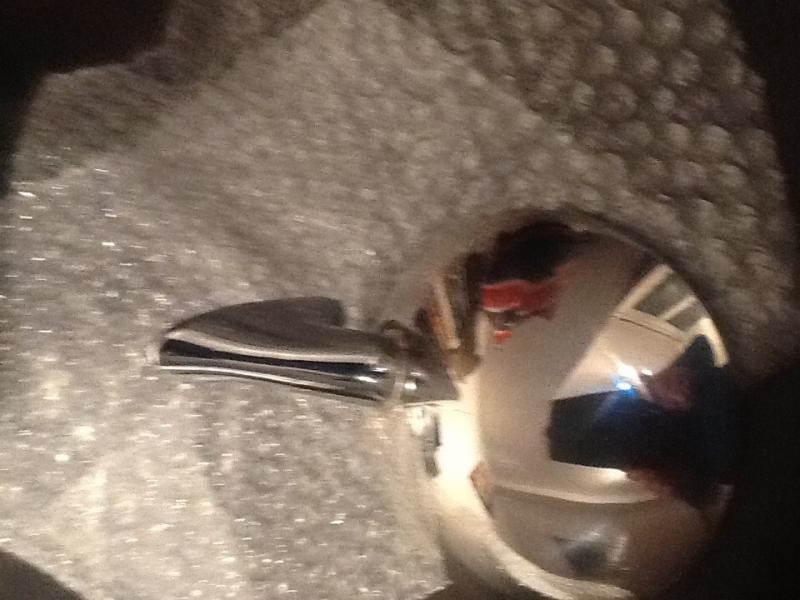 1-23-2014
Had the day off today so decided to do some engine work taking flywheel and clutch off and then putting in my mg metro cam timing it with the dot to dot method as this will be fine for my spec

I will be fitting a duplex timing chain cam followers etc, and new gaskets however that is a simple job which can be done after the engine has been painted. Next step for the engine is a big clean and a bmc green paint

Also got my bingley hall tickets






Cleaned up my pistons



Mg metro cam at bottom


Put the old timing chain on and that's how I left it for today
1-25-2014
been busy today. decided i like the striped out look and so the dash area will be sanded back again to be sprayed nicely. mounted up my seat and steering column, also made sure mounted up the gear selector which i dismantled,cleaned and painted beforehand. once this was all mounted i had a sit in the car and realised that my gear stick needs cranking so i took it out from the selector heated it up in the fire and bent it into shape. the bend i put in moved the leaver around 2" closer to me and so felt so much better. i have to say the positioning of where i sit is incredibly comfortable and go-kart like. other than that i mocked things up such as centre binnacle and fresh air vents which i had to position differently due to the extra roll bar i put along the dash. painted and cleaned things like the horn and lhs master cylinder blanking plate, also mocked up my fuel tank, fitted the handbrake and other little bits such as switch panel, accelerator pedal, brake light sensor on the pedal box.
cant wait for Bingley tomorrow. when i get back i shall be uploading pictures of my purchases, with hopefully many being bargins ahahah till then......
1-26-2014
been busy buying stuff at bingley today. however needed less than all the other times i have been so didnt come back with much, however saying that for alot of the stuff i either thought i could get it on ebay cheaper or just get it at minispares which saves me the hassle of carrying the stuff and buying so much in a busy crowd.
i did get:
works rally exhaust
rear hi los
mk1 interior handle
duplex timing chain
mk1 window catches
mk1 window catch rubbers
screen heater vent for 50p
oh and i also picked up my harness which i am very happy about. fitted these and mocked up the exhaust when i got home, however i could only mock up the exhaust as one of my brand new mountings didnt tighten up, as the stud span around in the rubber, which i wasnt happy about.
i will be fully sanding the exhaust and painting it with high heat resistant spray which will be a nice matt black !
thats all for this weekend, next weekend i will be spending it up at mini-spares
oh and some picks i got of the day, and that beast of a 16v supercharged. i was looking at the 16v engines thinking thats going to be in my car in 2 years time hahah
my favourite shot >>>>
Latest purchase

Facet fast road fuel pump complete with filter, mountings, unions etc well pleased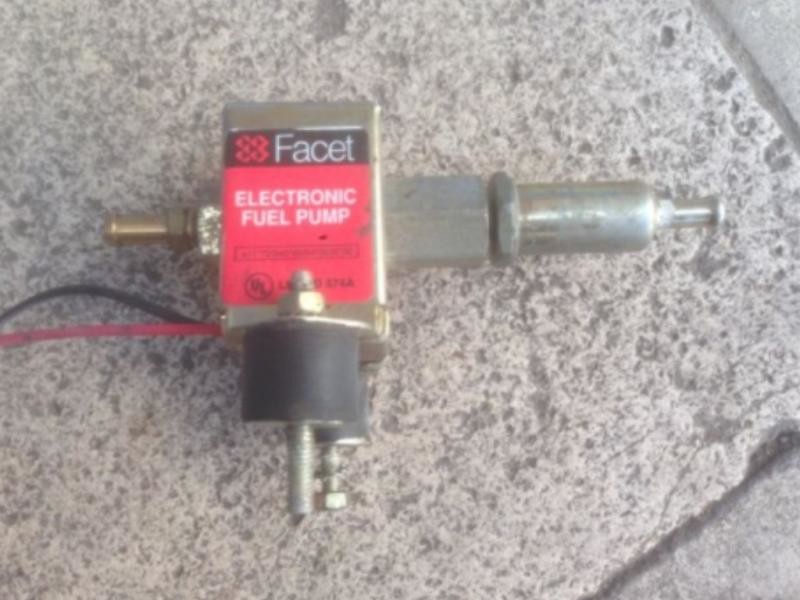 2-2-2014
Engine is in today !!!
had a big spend up at minispares on saturday. lots of bits including my lowered height gaz shocks which i love !
also cleaned and painted the engine yesterday, fitted; mg metro cam, new cam followers, duplex timing gear, new clutch, new gaskets.
got the engine together and then in the car however one of the captive nuts decided it was no longer held on and span round, was not happy about this, but i will weld it on so no worries there.
still have lots of things to do before i can think about starting the engine, things left are:
finish mounting engine
handbrake cable
connect pedels to master cylinders
connect gear linkage
brake lines
rebuild callipers
paint driveshafts+ fit them with new boots etc
fit wiring harness
water pump+ rad with hoses etc
clean up exhaust, paint + mount it properly
sort out the facet fuel pump, mount it and wire it up
fit fuel tank+ fuel lines
rebuild carbs + fit them
fit; dizzy, starter motor etc
fire that bad boy up hahah
thats all for now i shall be doing small updates in the week of little things i will be doing in the evenings, but all i need to do it keep chipping away at things each night and before i know it i will be pulling it out of the garage not pushing it.
2-10-2014
been busy:
connected up the gear selector
put on gear selector
mounted faccet fuel pump
cleaned up and painted the alternator
cleaned up the fan blade
painted the water pulley pump
polished up carbs and fitted new gaskets
painted up carb heat shield and fitted it.
fitted oil pressure line
fitted clutch cylinder
fitted brake bias valve and painted it
fitted brake lines to bias valve
put push rods in
cut and zip tied the pipercross filters on
fitted new coil
fitted fan belt
lots of little bits really stuff you don't really notice but takes a lot of time and needs to be done so that bigger better things can then be done
2-27-2014
much more this weekend, should be running good and not misfiring hopefully.
3-23-2014
been very busy, car ha a bad misfire and so on went the std 998 head, misfire fixed but overfueling, on went a 1 1/2 su carb and alloy inlet manifold, fuelling solved... well almost, still runs abit rich.
car now drives, have been addicted to moving it around the drive and doing a few cheeky wheel-spins, just feels so good to have it moving after 3 years of it being a shell haha
dad brought me an oil cooler so that was fitted up, will be needing this as i will be running a sump guard and so engine will be more likely to heat up.
started converting the rh door to mk1 today, the door is now hung on mk1 hinges with all of the internals cut out, however no welding was done as i ran out of gas
oh and i also brought another mini which i put back together and now is on ebay http://www.ebay.co.u...984.m1555.l2649
plan is to finish converting that door and then do the sliding windows in both, then once this is done it will be time to crack down on the bodywork.
i have 5 months left which sold be plenty of time, bodywork should take 1 month, then paiting, cutting, mopping, polishing 1 month, then putting everything on 1 month. this is more time than i even need and only comes to 3 months work so i should easily have it done, then once it is done it is bigger engine time.
hmmm forced induction me thinks
4-25-2014
now for the 1275 my dad brought me for a sum of £100 bargin, will have fun rebuilding this to 1310 twin carb 80bhp monster maybe even a sneaky supercharger build to aim for 120bhp
callipers on just need new nipples and a good bleeding
12g940 head and double valve springs
girl at halfords couldn't find the barcode and so only charged me £6 for a 5kg roll of 0.8mm welding wire, should have been £25 but I'm not complaining
last pic is a smiths clock and volts gauge in a pod, that and the sump guard where collected last night.
thats all until tomorrow, exams are in may so progress will be slow and will be mainly buying things so that i have everything, that way once the car is painted in summer holidays, it can then all be put on and the car will be finished. list of things is growing ever smaller.......
Well I have made the top of the door flat and the mk1 sliding window runner sits on that, have tested this and it works. So I will be putting the mk1 sliding window rubbers in the door and then cutting my own windows out of Perspex/polycarbonate. Basically making a bespoke mk1 window to fit my car. I could get glass made but that's just added weight hahah
5-18-2014
with 3 months 13 days left everything mechanical is sorted and I'm onto the bodywork, just had my a level exams and i now have 3 weeks off in which i am hoping to get the mini completely painted. this means extensive bodywork prep each day for as long as i can.
also wired up my tim rev counter, 12v socket, volt meter and mk1 cooper 100mph speedo, also changed the head for another 998 one and did the head gasket which has put a stop to the extensive clouds my exhaust loved making, soundproofing has been fitted to the floor. sterio mount.
all of that ends with a result like this:
very happy and it works well at charging my phone!
the red wire is now also hidden
was out all night changing the head gasket and head, had to take the head i put on off because half of the studs would spin under any torque, so 3rd time lucky i managed to salvage a good head from the depths of my shed.
also got some car ramps which stops my back aching or having to put stuff under the car to keep it up
more to come tomorrow
5-23-2014
front end is in primer and is ready for top coat, going to do the sides next, then the back and finally the roof then once i am happy with all of these give it a inca yellow topcoat and a gloss black roof, also i am going to be running my dunlop d1's and because of this i am going to run group 2 arches which are the wood and picket style with the chrome finishing strip on the edge, i have also ordered roll cage padding and a 7" electric fan, which should be good when the engine is getting hot.
keeping a look out for a mg metro dizzy and an uprated 998 head such as a 12g295 or similar, however i would like to use my bad boy 12a185 but had running problems when it was on the engine, any suggestions to how i could sort it would be appreciated. also i have brought my front bumper and overiders and a tim rev gauge.
took me just over 2 days to do the front, the only thing stopping me from getting in sprayed before the 9th of june is the weather
fix any imperfections
give a 2nd coat
guide coat and flat back to show low spots
fill in low spots
3rd coat
again sand imperfections
4th coat finished with a wet and dry of 800 grit ready for top coat
just have the bonnet to do and then the front end is done
I'm very happy with the results and should look awesome with yellow paint on it, cannot wait
5-27-2014
got some more done 2 days ago when the weather wasn't so bad, the front end and bonnet is now ready for top coat and the rear end is almost done
ordered group 2 wood and picket arches and so will be ordering tyres and the mk1 grill soon
5-28-2014
Received my roll cage padding from mr postey today


5-30-2014
update time!!!
been busy today as i received my group 2 arches, so got busy putting these on, along with the towing hook which came from my dad p1800 volvo, also with the arches, due to me having discs on the front the wheels stick out more, so to compensate for this i used spaced drums on the rear which i had on another subframe along with the longer studs, obviously i will be running 5x10 dunlop d1 wheels so they will fill the arches nicely unlike the steels do. also put on the lh window runner and prepped the rear, which is now ready for its 1st coat of primer! exciting
then things got a little crazy with a banded steel wheel....... not really hahaha i just mounted it the other way to get a stanced idea, looks sweet
and some of my clocks lit up ( still need to wire up the light for my volt gauge and clock)
nice and bright..... not
wow thank you
regarding the paint
1).i use 280g wet for things like deep scratches then once these areas are smoothed go over the whole panel with 400g wet, primer then 800g wet between coats, the professional who i brought the paint off said for me to use this method and so far it is working flawlessly. don't forget that i primer then guied coat and block sand with 800g wet to show low spots which i then fill and repeat etc, means your finish doesn't look like old land rover panels.
2). people use 1:1 ratio however i find that i end up doing more of a 1 part paint to 2 thinners, however this isn't exact as it is more like 1:1.50 (paint:thinners), you get a feel for it when you paint, i like to keep it fairly thick as i like to sand down between coats and find that most imperfections come out when paint is put on thick and then wet and dried, things like gun tip and gun psi all play a roll in how you mix paint, it has a full fat milk type feel hahah, like slightly thinker than water, just test and try really. when it comes to paint so many people do so many different things. also my primer is high build so is naturally thicker
waffled on but you should get the idea
Man this picture makes me want banded steel wheels
forgot to post up the pictures of my richbrook wheel valves fitted to my d1's
very fast and easy install, recommend them
5-31-2014
update:
got the rear end in primmer today, next to do is the boot lid then i can move on to the sides of the car, starting with the passenger side as its already 75% done
. got my car cover in the post its abit too big for the mini, but it does protect it and it was £15 so i can't complain.
that was the 1st coat and you can see in the last picture the work that had to be done to the light, however this and a few scratches was all that needed sorting and so they were easily fixed
gave it 1 more coat and thats how i finished the day, few places need sanding with wet and dry but really there isn't much that needs doing and so after another coat it will be completely finished
looks so good being all one colour, makes the de-seamed mk1 rear look ace!
then on went the boot lid hinges to ensure it was all fitting well
then he was tucked away for the night
that is all, may be going to the sea side tomorrow so next update will be monday evening ......
wow going back to page 1 makes it hard to believe the difference from then till now
6-1-2014
Up adage of the small amount of work I have done today, went to Hastings and got stuck in traffic so got home around 6:30 meaning I couldn't do a lot, managed to 800 wet the whole rear end down, filled in large pin holes and and low spots but that was all, I was hoping to sand the filler back in the morning and then give two more coats but if the weather pans out anything like the forecast then spraying will be of the agenda,




If it rains tomorrow then I will work on the drivers side and the bootlid, hopefully it doesn't come to that.....
6-5-2014
update
finished priming most of the car only have the boot lid and roof left to do which means i should get the car in top coat tomorrow
fitted my extended studs and space red drums
also extended my loom as I'm running it along the floor
only allows certain amount of pictures in each post so rather than wasting my time uploading and then having to delete them i will spread them out, just incase anyone was wondering why i haven't done them all in one post
have to sand the filler on the roof and finish my boot lid then primer both and its ready for top coat so no reason it shouldn't be in colour tomorrow
6-6-2014
in top coat so here are the pictures, its being 800 wet tomorrow all over then i will give another 3-5 coats of paint with a 25% paint 75% thinners ratio, for that ultra shine.
overal i am happy with the finish so far, there are a few bugs and bits in the paint and 2 runs but these are only minor things that will come out in the wet sand tomorrow, the car has a really good shine considering it was a 50/50 ratio mix and no flatting back has been done, it has had 3 coats so far. so excited by it,can't believe I'm this close to being finished. have been waiting so long to have my car in paint, has some reacting on the roof which i sorted all that needs now is a flat down and then its ready for some gloss black! this will be most likely next weekend possibly sunday if tomorrows weather is okay, however i need to get the paint first.
boot lid still needs to be sanded on the inside and there are some pinholes on the passenger door which need sorting but I'm well chuffed with it, for a first time spraying i think the finish isn't bad and I'm not even done with the paint yet, there are a few marks and 1 or 2 dents but i can live with that, it will be a daily, not a show car. i have never restored a car before and have learnt everything for the first time that i have done along the way anyway here are the piccys
that shine out of the gun
looks lush with mk1 lights on, there there not bolted in yet so may not be sitting right in the pictures, but you get the idea
now in the garage for the first time with paint on
I'm pleased with how the deseaming turned out
that is all until tomorrow, paint has been a big step in the resto of this car and it shows that it is all coming to the end of the resto build....
6-7-2014
Been to halfords and also received my vynal which I will be using for the inside of the roof, doors and quarter panels and also the dash rail


update had 3 more coats today after a full 1200 colour sand and so has 6 coats in total on it
looks so solid in this pic
left it tucked away until tomorrow
tomorrows jobs are:
primer seam strips
top coat seam strips
fill small dent and some pin holes in drivers door
top coat doors inside and out 3-4 coats
give rh door hinges another 2 layers of top coat
finishing sanding outside and inside of boot
primer boot
4 layers of topcoat on boot
thats all for now........
Hope to get some gloss black during the week and spray the roof and arches next Saturday as this will also need a lot of flatting back to get looking good, will have to template my mk1 windows soon so that dad can send them off to be made in glass, also trying to save for tyres so I can fit my lovely d1 wheels, quoted £44 each fitted, good considering the tyre costs £42 each, going for falkens on my 5x10 as A032's wear too fast and the A008 is more expensive than falkens without any considerable difference. Soon be finished only have 2 months and 24 days till I'm 17
6-15-2014
got my tyres yesterday so they were fitted to the car along with the arches, also gave the bottom half of the car a wash as it was filthy and Ive read that its important to keep the paint clean while it is in the curing process, also did some work on my doors last weekend and finished off my boot yesterday ready for primer now, going to put the front windscreen in today and the rear quarter windows, can't do the rear as minisport sent me the mk1 rear screen so it is too small, if the rain stops i will get the passenger door out and get that looking good and ready for some more yellow
need some new wheel nuts
put windows in and lights in
https://www.youtube.com/watch?v=sRQwi9M4_38
wipers and washers are on and fully working
6-21-2014
Dad got a mini today a 1973 mini 1000 with many cooper s features like twin tanks, bootboard and diagonal slam pannel support




Needs subframes and an engine which we have, dads got a 1275 to put in it ;)

He will put up a thread later his name is madmarksmk3
6-24-2014
thanks got the grill on and the rear screen in yesterday
More pictures of the doors on and boot on also fitted my wing mirrors


7-6-2014

Bonnet on


Been bleeding the brake system, sorting out the electrics to run on a bigger fuse box, also have fitted a hiff 38 which makes the car run a lot better, also have cut some areas with the mop
The hiff 38 I picked up for a mere £10
7-8-2014
Took my carb off today to fit new gaskets, also brought a new rh calliper from minispares and fitted this and bled the system, so now i have brakes !!! received my electronic mg metro distributer yesterday so still need to fit this. tidied the garage with my dad and swapped sides, much prefer the lhs of the garage as i have so much more room now.
painted my towing eye black
my led magnetic interior light working
just after i took the carb off it bucketed down, so the mini got wet
7-24-2014
well i sprayed it yellow and I'm really happy with how the car looks and the finish i got on the roof, also it is pretty much mot worthy now, i just need to go round checking all bolts and rubbers etc, but my first drive is in 1 month 7 days and i shall be driving to the Mot centre on that day for my very first drive out, so exciting
masking took about 1 hour in the sweltering sun, was not a pleasant experience
missing rh overider as it came off when i was masking up
oh and i have sliding windows now !!
7-30-2014
Not a lot to update as I'm doing my dads mini at the moment, my good old clarke 150 turbo packed up on me so a quick replacement sip handymig was picked u for £30 with a wire feed problem, which i sorted in 1 minute as the speed trim needed to be adjusted, it was only local too and was cheap so it will do the job until my clarke comes back from repair. The whole car has now been cut back with compound and has had a polish, apart from the roof as i am leaving this too dry for a while longer.
i have also decided that a turbo 998 is the way forward keeping it as std as possible, having the block pocketed for a 12g940 head and an uprated clutch and diff, meaning if it all goes wrong and blows up i can pick up a 998 for £50 and a 1275 head i can get for £30 so its no "biggy", aiming for 100bhp and should have this in the car this time next year, i also have a 1275 that i will be going 1293 and then swapping the turbo parts from my 998 to this engine in the hope for 120-140bhp so its an investment really!
my a+ 998 with a 940 head on the right and my 1275 on the left, patiently awaiting turbochargers
8-23-2014
Big update, it passed its mot yesterday ! 1st time with 1 advisory, it was also its very first time on the road after the restoration so i was shocked that it got through the mot so well, i was chuffed, changed the head today as it was smoking a fair amount, now a lot less so and is very minor when warm but this again is due to the head as it is old. went out again tonight it was hitting a wall at around 40mph where it would take some time to accelerate up faster than that however a quick pull over and richen of the carb soon made things more spritely, needs a good rolling road tune but it is fine until i pass my test. feels strange having my car taxed and tested and on the road. a few problems tonight the car is too low at the back with me my dad and a full tank of fuel meaning the tyre and the arch had lots of fun making screens of smoke on the way home, a quick pull over to take the rear arch off and this was sorted. also had my first break down, the alternator isn't charging the battery enough and so with my lights on i soon ran out of juice and we found ourselves in a lay bye on a A road not far from my house, mum picked me up and we went home to get another battery which meant the mini got home okay, have had a few cracking comments about the car so far and its only been on the road 2 days, the suspension is well setup and all will be well when the alternator is sorted and the rear ride height adjusted, here are the pictures
and finally one of when we broke down
chuffed to bits with the car has turned out so well, teething problems where expected but there all minor things that are easily fixed
8-26-2014
tidied up my boot yesterday, fitted a boot board i had laying around with a few feet etc to keep it still and steady, also used two mk3 door latches painted them black and screwed them down as anchor points for strapping my essentials down. looks so much neater than before and stops things flying around in the boot every time it hits a bump
before
after
little before and after picture
8-31-2014
drove my mini today
, as it is my 17th birthday, had great fun and cannot wait to get out again will be amazing when i pass my driving test.
small update from friday as i repaired the area damaged by my old petrol cap which was leaking
but a flat back and spray got the job done and you would never know it was repaired
, also cleaned my car inside and out and thought i would get some pictures up of the finished product seeing as i actually don't have many on here
masked up more than this but i didn't get a picture as the clouds looked moody
then the finished repair
looks like there are streaks in the paint but i assure you there isn't, this is just a reflection of me when i was taking the picture
now some of the clean finished car
some at night
10-8-2013
Went to the rolling road yesterday and my car produced 50bhp at 5000rpm, I turned up with around 30 as my fuelling was way out and with the timing and fuelling sorted I gained an extra 20bhp and the drive home was amazing

My spec is

Std a series 998 block
Std pre verto gearbox
Std 998 head (with the main combustion chamber restriction removed, by me)
Duplex timing chain
Mg metro cam
Alloy inlet manifold
Hiff 38
K and n air filter
Aau needle
Maniflow manifold
Works cooper s exhaust

I got a video of one of the runs but the fan belt snapped meaning the run had to be stopped
No I don't have any however this picture shows what I have done perfectly, the picture is for a 1275 head but the principal is the same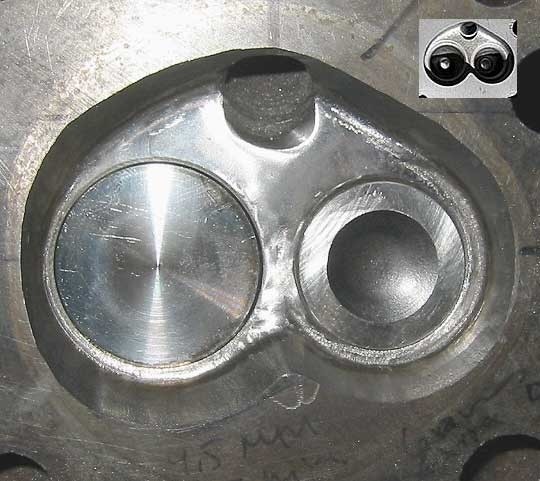 11-4-2014
got a picture of my drive out in the woods the other day, the sun was shining and everything
3-9-2015
Fitted my std airbox recently and drilled some holes in the bottom of it and added a k and n element, this along with my new maniflow lcb makes the car so much quite inside, makes it run so much better and more economically and also makes the exhaust note a lot more raspy!!
Also i think it looks a dam site nicer than the k and n, and reallytidies it up
3-31-2015
Went to Brooklands bank mini show last sunday, car was great didn't let me down once
fitted my car with mudflap's the weekend before